Coffee or Tea?

Philippines
September 12, 2008 9:33pm CST
What is said to be the most popular drink in the world? Coffee or tea? In our country, in my observation, Coffee ranks as number one drink. And it is even still even growing since the demand is soaring. Unfortunately, we have less coffee farmers since some opted to shift to other agricultural products. That means price would also go up. Even then, people still grab a hold of their coffee. With coffee shop industry booming, where no corner or street is without a coffee shop, I can feel that coffee is fast becoming the "in" trend in our place. Although, there are also some tea shops, they cannot top the number of coffee shops in our place. How about you, which do you think is the more popular, coffee or tea?
3 responses

• Philippines
13 Sep 08
Coffee, absoulutely is the most popular drink than tea. Here in the Philippines when you said socialize, talk, have a meeting, wi-fi, or simply chilling. First thing that comes to mind are coffee shops. Starbucks are almost everywhere. They're popping like mushrooms. The best part is that even the lower market makes a way to purchase a coffee in Starbucks. Tea places here are not that popular. In fact whenever I passed on to one. I hardly see people drinking. Though if you're going to ask me, I prefer tea because its healthy and tastes good but I am pretty sure that coffee is more exciting.

• Philippines
13 Sep 08
Yeah.. I agree. I'm also a coffee lover. I already tried shifting to tea for a more healthy drink but tea just can't seem to take the place of my coffee. Perhaps it's not for me. Anyway, What do you if we put up a coffee shop with a more native accent? Filipino style? Whsat do you say?


• Philippines
13 Sep 08
I love both of them but I would go for coffee since coffee is always available everywhere in my country 24 hours a day. Coffee stimulates me in the morning also on past midnight sessions. Cheers!


• United States
13 Sep 08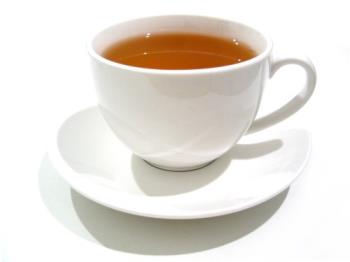 I like both of them

Tea is the second most popular beverage in the world, after water. It is estimated that somewhere between 18 and 20 billion 6 oz. cups of tea are drunk daily on our planet. An extension of numbers would indicate that the United States only imports enough tea annually to keep world usage rates going for 2 days. India is the country with the most tea consumption in the world - an average of 651,000 metric tons per year. Do you want to know how tea evolved over the centuries? If not, read on: http://in.rediff.com/money/2007/jul/05tea.htm Around the world, about 400 billion cups of coffee are consumed each year, with Americans consuming the most at 400 million cups per day (146 billion each year). Coffee represents 75 percent of all the caffeine consumed in the U.S. "In general terms, global consumption of coffee is rising steadily year-on-year and those markets that had previously become stagnant have been revitalized by the explosion over the past decade of new-style coffee bars," said Martin Wattam, the library administrator for the International Coffee Organization. "The number of people drinking coffee is growing as these new markets expand and the traditional markets in Europe and North America consolidate." * According to coffee-statistics.com coffee shops make up the fastest growing part of the restaurant business with a 7 percent annual growth rate. Because of the popularity of coffee and coffee-based drinks, it is not surprising that Starbucks deemed Gillette a good place to set up a new shop. As Americans drink their coffee in the morning — the most popular time for coffee drinks, according to the National Coffee Drinking Trends 2006 publication — only 75 percent make a cup for themselves. The rest depend on coffee shops and kiosks to provide them with their daily dose of caffeine. For those who make their own coffee, maybe it's time to try something new http://www.gillettenewsrecord.com/articles/2007/05/13/news/news04.txt