Turtle Questions??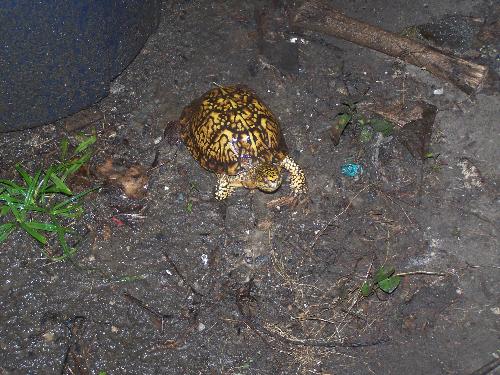 United States
September 13, 2008 10:35am CST
I live in Northwest Ohio and this morning my son walked out in our rain storm to find this turtle on our porch. He seems pretty big for a wild turtle although we have a red fox that lives in our backyard so I guess it's possible. Anyway my son wants to keep him. I'm not so sure. I was wondering if anyone knew what kind of turtle it is? We usually see little tiny turtles but this "boy" (not sure if it's a boy or girl) is very large. I took this picture by my trash can. I have searched the internet but cannot find one that looks like this. I have found a yellow shelled turtle but black body and this one has the same pattern on his skin as his shell. Please if you have any thoughts let me know, or if you know a good turtle website to find some information out on turtles I would love that too.
6 responses

•
28 Sep 08
I think it may be a tortoise, a turle normally has a flatter back because they spend more time in the water. Hope that helps you on your quest. I'm guessing you asked if it belonged to anyone that lives nearby?

• United States
28 Sep 08
Yes we did, our neighbor acted like I was crazy when I did. He asked me if I thought if he had a turtle if he would just go outside for a walk lol. I was actually able to find out it is an American Box Turtle, and they are coming close to being endangered so it is going to be set free at my aunts house, she has a huge pond and lots of woods, so it will have a water source and food. I didn't want to keep it once we found out that they are getting rare. I'm hoping that my aunts land will have a mate for it out there.

•
29 Sep 08
I'm please to hear that. It's a stunning creature, the markings are amazing! Hope it enjoys it's new home.

• United States
29 Sep 08
yeah it is a little box turtle, :D . I had one for a pet when I lived in Ohio for some time . I named him George. I named everything George at that age , rather it be male or female. You can tell if it is male or female by looking at its tummy. If there is a lil indent in its shell on its belly , it is a male , if it is a flat tummy , god I wish my was , It is female . That is a very beautiful picture you got , I think it was giving you a little smile for the photo . Big grins ! :)

• United States
29 Sep 08
Wow, I asked the pet store if they knew how to tell and they were clueless. Once it starts moving around I will have to check and see. Thanks for the great information!

• United States
13 Sep 08
Not too sure what it is its the same size as my turtle, but mine is a red eared turtle. But if you plan on keeping it make sure it has plenty of water and that it has a place where it can stay out in the sun or some kind of light. I've had my turtle for a while and mine is in a fish tank and it has water and a floating dock as well as a light. They need the dock to climb on and dry out their shell.

• United States
13 Sep 08
Thanks we have never had a turtle before and I am so unsure of turtles. I picked it up and it seems really calm. Thanks for the great tips. Do you like your turtle? Are they easy to care for?

• United States
13 Sep 08
Although there are several species, it looks like a Box turtle to me. Try googling that. I had one when I was younger, it stayed in our backyard, they like a small bush or area to 'hide' in, and need a water source, only a couple of inches deep.

• United States
19 Sep 08
Here's a site that might help you find what you're looking for: http://www.northamericanturtles.com And once you decide whether or not you will keep the turtle, here is a site with different care sheets for different North American turtles: turtlepuddle.org/american/us.html

• United States
20 Sep 08
Thanks for the great site! After reading it I think I should probably set it free. My aunt has a nice pond area that I think it would like very much.

• United States
21 Sep 08
I think that's a great idea. If an animal is born in captivity it's one thing, but when an animal is just found, I have a hard time keeping it captive, unless of course it's a domesticated animal like a dog or cat. I had a toad once that my husband had found and captured for me to keep, and I did keep it for a short while, but at one point I looked at it in it's case, and it just looked so sad to me. People sometimes say that animals don't have feelings the same as we do, and this may be true, but to me the toad looked sad, so I let it go.


• United States
5 Oct 08
This turtle will not make a good indoor pet. It must hibernate. If you decide to keep it then you MUST be able to provide hibernating quarters for it. So read on how to over winter a box turtle. A cold basement during the winter might be enough. You can also make an area in your yard for it. A fence will keep it from straying. It will also need clean water during hibernation but no food. Read before you decide to keep it. It needs to be free because it needs to find a place to hibernate if you are not going to provide one.

• United States
5 Oct 08
You're so great, thanks for the tips. I am too afraid to keep it in my yard because we already have a red fox and the fox would probably eat the turtle. All of our other critters would probably not bother it but the fox worries me a lot. After all the reading and research I was able to determine that he would be great at someone else's house. My aunt has a pond (not a swimming pond) and a huge wooded lot without foxes. He has a new home.

• United States
5 Oct 08
Although the turtle may have appreciated the attention and easy meals he is probably better off at your Aunt's house. Now your son can look for his turtle friend when you visit. A cheap activity. LOL

• United States
20 Oct 08
He is probably nestled in his hibernating spot. You did the right thing. Thanks for the best response.