My Very First Tarot Card Deck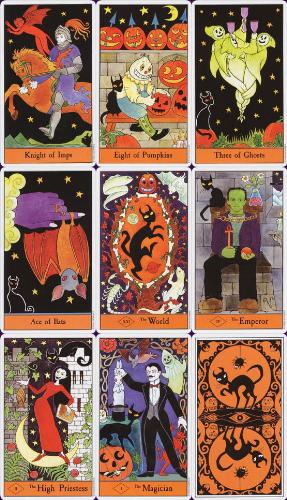 United States
September 15, 2008 3:03pm CST
Hi everyone, I have something I wanted to share with everyone I received a gift card for Barnes and Nobles Book Store, Oh my gosh, so long ago, as a Christmas gift from my youngest son, last year. I FINALLY went to their online store and picked out something I have wanted for a very long time. I know, many of you said I should actually touch the cards before buying them. Well, chances of that happening in this tiny, one hick town I live in, well, it is pretty slim to NOT EVER happening! So, I an taking a big chance, and just going with my deep down gut feeling! I have purchased my very first Tarot Card Deck and Book Set. From the moment I saw these cards (a very long time ago), I have wanted them, but never bought them. The time has come to get them, so I did! Before telling you which ones I got, I'd like to tell you a little of why I felt these cards were right for me. I am a bit on the Gothic side of life. I love Autumn/Fall Love the colors associated with the season And most of all, I love Halloween, it is my very favorite day of the year! So, the Tarot Deck I selected for my very first set is... Halloween Tarot It is a Rider-Waite based deck By Kipling West With lots of black and orange (my favorite colors) 78 Cards (Major Arcana: 22, Minor Arcana: 56) I have read several reviews, and I am aware that this deck is going to be different from other decks, but in my heart, this is the one I truely felt I needed to have. If for some reason, my feelings were wrong, then I will try another set, but for now, these are the ones i have selected as my first tarot deck. Wish me luck! Thank you all for taking the time to read this, Nocturnica
6 responses

• United States
16 Sep 08
Hehehe, that is a cute deck! My son once got me a deck of tarot cards from Barnes & Noble... not a gift certificate, the cards themselves. It was the Sacred Circle Tarot. I really love those cards but I have been using the Osho Zen Tarot for the last year or so. Have fun getting to know your deck!

• United States
16 Sep 08
Oh, I am just so excited I can't stand it! I have been wanting them for SO LONG! And now I just have to wait for them to arrive! Thanks for posting a comment! Nocturnica

• United States
16 Sep 08
Hehehe, yeah, there is nothing like happy anticipation!

• United States
16 Sep 08
Update: I received my tracking information this morning! Yippee! The package hasn't even left the warehouse yet, and I am already counting down the days, lol



• United States
23 Sep 08
Oh, I have been doing nothing but practicing, reading, looking at cards... since I got them! So, do you have other tarot cards too? Do you find they are really different from other cards?

• United States
29 Sep 08
Wow, to me, that is alot of decks, he he! I can't even imagine having 50 decks, but maybe I will have that many too. I am still practicing with my Halloween Tarot, and loving them more and more each day!

• United States
17 Sep 08
Great!! I'm really glad to hear it. I remember hearing you say that you really wanted a deck of your own, so I'm really glad to hear that you found one that you truly like. They look very unique. When did they say that you'll be receiving them? Let us all know when you get them. Personally I would like to know if they are very hard to use, or to learn how to use. I've always wondered how they worked, hopefully you will find out and let all of us know. I can't wait until you get them. Good luck, I wish you well. Don't forget to let us know how it goes. Great discussion.

• United States
17 Sep 08
Schdeuled Delivery: 09/19/08 Status: In Transit, and on time! Oh you can bet I will be letting you know when they arrive, if I can find the time to post, he he. The deck I am getting comes with a book, and hopefully that will help me quiet a bit on learning to read the cards.

• United States
15 Sep 08
They're certainly very different and unusual, Nocturnica, but the important thing with any deck of tarot cards is how they feel to you. If they feel right to you, then you'll do just fine with them. It's nice that they're Rider-Waite based - I usually recommend a R-W based deck as a first deck, just because it's so much easier to learn to read with them. It sounds like you had good reasons for choosing the deck that you did. I wish you luck!

• United States
15 Sep 08
Thank you for your comment chameleonsdream and for wishing me luck! I feel like a child in a candy store with that has no money! I want so bad to taste the candy, but can't at this time, he he I am so excited, I can barely wait for the deck to be in my hands!!! And honestly, I have a good feeling about them already. I have another set that I have had on my mind for some time now, but it was more about the beauty of the cards, instead of a feeling I had about them, know what I mean? That deck is gorgeous, and I love the art on them, but I just didn't have that feeling I had about the Halloween Tarot. So, I hope my feelings are right. Thanks, Nocturnica

• United States
26 Oct 08
OMFG those are too cute LOL I couldnt use them myself cause they arent my style but thats neither here nor there

My first deck was given to me by my now best friend..they had been given to her when she first started out many many yrs ago along with the reading cloth which was also passed on to me...I've not used them in a good many yrs but keep them until I find the right person to pass them on to...Most likely my daughter...then agian it could be someone else..I'll know when the time is right ya know..

• United States
26 Oct 08
Reading Cloth? hum, I don't even know what that is, just assuming it is a cloth you layout on a table or whatever and you lay your spread on the cloth. Do I need one of those too? I have been doing mine on this chest I have. It looks like huge books stacked up, but is really a chest filled with Halloween decorations, he he. I did find this small table (at a thrift store) that I was thinking of fixing up special for my readings, but not sure yet. Oh, I know, I love my Tarot deck! I am still practicing, reading my book... everyday!

• United States
18 Oct 08
I think that is a wonderful selection for your first Tarot honey. Especially knowing you a little it fits your personality which is very important. Especially when you really need to identify with the Tarot for it to work very well for you. The more it fits your personality and the more you identify with it the better it works and the more fun you have with it. So glad you finally found one that suits you honey. Let me know how you like it.

• United States
25 Oct 08
I am loving it! I practice every day with my deck, and I am learning, and having fun too!