What do you think about the pope or Holy Father in Vatican?

China
September 15, 2008 6:23pm CST
I am a Muslim,I have learnt that everyone in the world have no Allah's power or God's power from the Koran.But why Holy Father in Vatican think that he himself has the Allah's power? I have read Holy Bible,but I didn't find foundation that Holy Father has the God's Power in Holy Bible?So if you are a Catholic or Christian or the persons who believe in other religions,what do you think about the pope or Holy Father in Vatican?
6 responses

• United States
15 Sep 08
Wow, that's some misinformation you got there. The pope doesn't have God's power, nor does he claim to have it. He is just the highest religious authority on earth for the catholic church. There are high religious authorities in the muslim religion. It's in fact very similar in power.

• United States
15 Sep 08
Wow, have been raised catholic, been to the Vatican, but nobody ever told me that. He is not God on earth. Supposed to be God's mouthpiece, yes, but not God on earth. Who ever told you that crap?

• China
16 Sep 08
What I have learnt is from Middle Ages of Europe history. For example,in the Middle Ages of Europe the pope always want to rule the whole world,because the pope thinks he is on behalf of Allah,and the pope have rights to adjudge that whether a person is sinful or not,even can adjudge whether a person can go to heaven or not.For example, in the Middle Ages of Europe the pope sold Certificates of Atonement, if people bought that,the pope would say the person who had bought Certificates of Atonement were exempt from punishment.How can you explain it?


• Malaysia
17 Sep 08
hi neu, I am not Christian, Muslim or Catholic but my defination is as follows : Syariah Law is created for Muslims to follow , In a Syariah Court we have lawyers to represent both parties (Guilty and Non Guilty ) and you have the Judge who makes decision based on the laws set by Court in Quran ... (True or False) The Judge is not GOD or representing God, he is basically the person that knows better than most of us on the Islamic related matters and laws ...and he uses the Quran as his guidance of word of god Similarly other religions have our own bibles and a wiser person who can define the writings is the best possible way ... Holy Father is not GOD or representing God, He is a simple human being with more knowledge on the religious maters related to GOD by Catholics. In the mosque, normally you will have one "hight priest" (sorry i do not know the actual muslim term for this) ... he will lead the prayers and he will give sermons during your Friday Prayers ... He is not God, he is just explaining the word of god If you have some misunderstanding on your religious matters you will refer to your "high priest" as he is more knowledgeable ... If you are questioning on Vatican Priest ... just refer to Quran on your definition for your "high priest" cheers

• Malta
17 Sep 08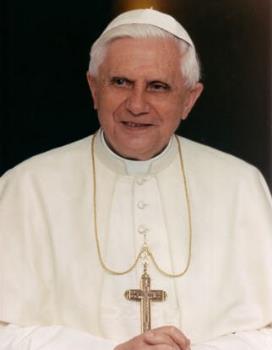 HI neulichuang. First of all you have to distinguish between the Pope and the Holy Spirit. The Pope is there to unify the church, to lead the church. He is there instead of St. Peter the Apostle on whom Christ's church was founded. He has the authority with God's help to guide the Church through out the ages.

• Philippines
9 Sep 10
I don't know if pope, have the power of allah or God. Because if we read carefully the bible. We found out that there is no pope, there is no catholic belief that Christ founded when he is still on earht... Read the bible, and there is an answer on what question in your mind. Because bible is the holy books that have all the answers in what we ask about anything have a great day!

• Italy
23 Mar 10
I live in Italy and because of the Pope and the Vatican, many ethical political decisions are strongly influenzed by the Church. It would have been better that the Church was located elsewhere... The pope is a simple very powerful man and I don't trust powerful men... But Church has many good catholic-christian people that help other people and that's fine and for me.

• Cebu City, Philippines
23 Sep 08
I am not a Catholic and I am not that knowledgeable in terms of their teachings or doctrines but one thing I know better that No one In this world could be a representation of God or has the same power as with God. So, if and only if that Pope at the vatican would claim as such that's not proper.right?