I would really like to know!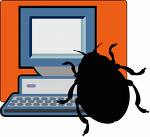 September 16, 2008 3:20pm CST
Viruses! Why do people really create viruses and send them to innocent people to screw up there whole computer system? Why would someone be so malicious? What does someone get out of doing it? Have you ever created and sent viruses? I really want to know, why do people do this?
7 responses

• United States
16 Sep 08
They do it for the same reason that there are people that destroy property (graffiti, bashing in mailboxes, etc. etc.) Unhappy people like to spread their misery. I don't think you can stop it because there are too many of them out there, and they are creatively making new viruses right this minute.

• Finland
16 Sep 08
Why are there wars? Why terrorists? Why murderers? Why criminals? That's about the same thing. What does a terrorist get when blowing up something with people inside? Nothing. If there has to be some reason, I think viruses have started from spyware. Someone wanted to know someone else's account and password and everything in some credit card site or something and then it became popular. That encouraged some idiots to make some other viruses than spyware, maybe because it would destroy all the defending mechanisms against spyware. Who knows (except the ones who invented viruses). Another possibility is that government created them to mess up or spy some other country's computer systems.

• Finland
17 Sep 08
I think that there are some people who have done some viruses but I don't think they would admit it very easily.

• United Kingdom
16 Sep 08
I think that this is probably due to them having viruses of all sorts in their empty heads!!! Some people really get off on this and I don't know the reason why. They should receive some of their own medicine and have their computers crash so badly that they will be lost for words. I know that there are places like youtube where you can learn how to create dummy viruses, these are the ones that cannot do any harm to your pc whatsoever, they just look scary when you first lay eyes on them. Anyway, I always make sure that my anti-virus product is always up to date now. Andrew

• Kuwait
17 Sep 08
Well in my opinion mostly of the people who has been creating those virus is they are working in the company because like the medicine they would like to try if it would help or create a good thing in our computer and not just for malicious doing because they are creating to have a payment and I never try to create one for me for it is not easy I think so on how to make those viruses .......


• India
17 Sep 08
Well some people just create it for fun and then try testing it on other peoples machines to see if it works properly. So basically many peoples PC gets infected and innocent people suffer. Another reason is I guess most of these Anti virus Companies only make viruses and send so that people buy their anti virus softwares and that's how they make the money. I'm not pretty sure about this but I feel so. In the past my PC has been infected several times by viruses, trojens and worms and I had to format my hard disk many times. It was a real pain in the neck. But now I'm a lot more careful and know how to deal with viruses better than before. I used to get a lot of viruses from college via my pen drive.


• Belgium
17 Sep 08
I believe that the most easiest answer is: because they can. They like playing with programs and things and they enjoy the feeling of power they gain with crashing other people's computers. That's what I think is the reason. There will be some who do it for money, although I don't think you would get much money from it but well, I'm not a virus programmer either.
Have a nice day