what is your goal in life?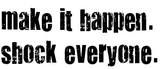 United States
September 16, 2008 6:13pm CST
i am married and have 2 kids and my goal is to go back to school once they start school, i though about taking online courses but i would rather do hands on.whats your goal???
6 responses


• United States
17 Sep 08
I have quite a few goals. My main one at the moment is getting over my social phobia. Once I get over it, I should be able to reach my other goals easily.

• United States
16 Sep 08
Well i have a lot of goals first i would like to take an art class or maybe go to special fx school id love a career doing something with my hands and being creative and another goal would be to find love and maybe have a family but i have no idea how to start that first goal, i was once in the paper for something i did that was creative but anyway taking classes is really expensive and sometimes the thought can be a little overwhelming and everything is so computer baste now days i want to do something thats more hands on.


• United States
16 Sep 08
just keep trying and you'll achieve that first goal.thanks

• United States
16 Sep 08
Like you I am married I have one child and one due in December. I have often thought of going back to school. But I may give the at home biz a shot 1st. I think an answering service might fit the bill.

• United Kingdom
16 Sep 08
That is exactly what I am doing my friend, I am going back to school or college in November, I want to learn psychology and how the mind works and more about myself and this is a great way of getting out as I spend far too much time indoors. I also want to get my own place and be independent again. I have lots of goals and travel is one of my goals close to my heart, I want to go to New Zealand and Sweden, I have set up realistic timeframes for them, New Zealand 2010, and Sweden 2012 I hope to achieve them. I don't line online courses to be honest, I tried it once and it didn't work for me one of those computer courses I ended up losing £1,500 OUCH! I prefer to have a tutor and to go to classes.

• United States
16 Sep 08
sounds like you have it planned just never give up.thanks for the response

• Philippines
18 Sep 08
I was thinking of that too. When my three kids are all busy studying I think I would go back to school. Aside from that my primary goal in my life is to see my kids all doing well in every aspect of their life.