"Why do my Kids Fight"

Kuwait
September 17, 2008 12:30pm CST
Dad, she's in my room getting into my things again!" "Mom, he won't stop annoying me!" "Me first! Me first! Me first!" Sound familiar? If you have more than one child, the answer is probably "yes," because these are the sounds of sibling rivalry or sibling conflict. While many kids are lucky enough to become the best of friends with their siblings, it's very common for brothers and sisters to fight. (It's also common for them to swing back and forth between adoring and detesting one other!) Often, sibling rivalry starts even before the second child is born, and continues as the kids grow and compete for everything from toys to attention. As kids reach different stages of development, their evolving needs can significantly affect how they relate to one another. It can be frustrating and upsetting to watch — and hear — your kids fight with one another. A household that's full of conflict is stressful for everyone. Yet often it's hard to know how to stop the fighting, and or even whether you should get involved at all. But you can take steps to promote peace in your household and help your kids get along. Well that would be the things that I always heard if the children are fighting for some little things..///?????? How do I have to stop this Rivalry things for my Children....//???????
7 responses

• Germany
18 Sep 08
hi iya,i have only one kid and its like i am taking care of 10 kids.well in your case i guess it will not stop but it will change when they grow up or adult.

• Germany
21 Sep 08
yeah,but now she learned a bit coz she saw me crying

.

• United States
18 Sep 08
My kids are 8 and 19 months. They are always fighting with each other. Mostly it is because he is trying to keep her out of trouble and she does not appreciate it, so she starts fighting with him. I wish I knew how to get kids to not argue, but I think it is just something we all have to deal with.

• Kuwait
18 Sep 08
The best you need to do is give them a funishment, check who start the fight then you can give them a lesson sit & talk if they will do it again in that time you make what you the funishment they will recieve.

• Philippines
17 Sep 08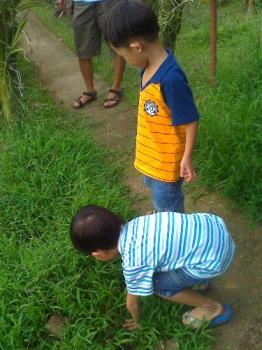 Oh it is very common here in my household to hear my kids fighting, but I don't see it as siblings rivalry, to me it just a typical kids fight, so I just let them be, I always told them to settle it for themselves and don't involve me with their fights, it works most of the time, as for my attention I always gave them equally, I love all my kids and really wish that they would grow loving each other too I just remembered they are very enjoyable to watch when they get along really well, sometimes when I take a nap with our youngest baby, i would hear my two toddlers talking and getting along really well, they are so cute, they just sit near me and talk about things or play pretend. (and they were only 5 and 3 ) their favorite game is play pretend, one would pretend a doctor and the other a patient, one would pretend a taxi driver and the other one the passenger, they were really cute and funny.

• Canada
17 Sep 08
I wish I knew what to tell you because my children fight as well and what makes it harder for me is the age difference . The two that fight the worst are my 13 year old son and my 5 year old daughter . I am often telling my son that she is so much younger then him , so why pick on her and he never has a reason ( what child does ) . But they do say that the more children fight when they are younger the better they will get along as adults . I pray this is the case !!

• United States
21 Sep 08
all kids fight, that's just normal even tho they drive u crazy doing it. my sister & i did but we grew out of it. it ws o.k. for us to fight we thought but we sure didn't want anybody else saying anything to us.one of these days they'll be best friends, you wait & see,

• China
20 Sep 08
Hello iyah. It seems that it is very natural for kids to fight against each other especially when they want to get something for themselves. I have seen many kids this way. Of course there are also kids who are very cooperative with each other. Anyway there is no hurry about this. The kids will be ok naturally when they get older. The same case happened to many of us adults when we were kids. Yes? Good day and take care.