Have you ever been involved in a car crash?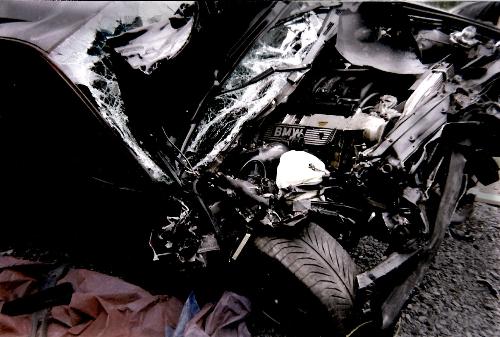 Malta
September 17, 2008 1:52pm CST
I have been driving for about 10years now. I have been involved in two minor car accidents in which my car suffered only minor scratches. It was my fault as I hit the car in front of me. My car did not suffer any damages. On another occasion I was hit from the side by another car. I was the driver on both occasions. How long have you been driving? In how many car accidents have you been involved so far? Were you the driver or the passenger?
10 responses

• Malta
18 Sep 08
Yes sir! I have been involved in a car crash once about 15 years ago. It was quite a big crash where a car coming from the opposite direction was driving on our lane. The car was a wreck but fortunately we weren't even scratched! I was a passenger and from that day, I am still afraid to be a passenger in a car. The accident wasn't by boyfriend's fault that day but I always feel safer if I am driving.

• Malta
23 Sep 08
Oh dear so you can say that you are lucky to be still alive


• Canada
23 Sep 08
I have been driving for twenty one years and have only been in one minor accident . It was my fault because I was the one driving and we landed in the ditch . My car was hurt more then any of us in the car . I was going to the beach with my aunt , sister and a little one I was babysitting . I was not used to the road as I had never driven on it before and I had only had my license a short time . There was a sharp turn in the road but no sign to indicated this and when I went around the turn , there was gravel all over the road . I ended up hooking the gravel and was on the wrong side of the road when I noticed a car coming at me with a baby in the back . All I could think about was getting off the road so I didn't hurt this baby and pulled back to sharp and landed in the ditch . It was a deep ditch and ended up ruining the frame on my car so it ended up being wrote off but luckily no one was hurt . I was hurt the worst and only had seatbelt burns from landing in the ditch .

• United States
18 Sep 08
I have been driving since I was seventeen and I have considered myself a pretty good driver even though I have been in a couple car accidents,the first one I was driving my Chevy Nova and lost control and hit a welding truck,which I was lucky to have survived,because I about blew myself and the school up because of the chemicals in the truck,and the second I was driving a Pontiac Grand Am and I slid into a tree and totaled it.

• United States
18 Sep 08
ive been driving for... about 8-9 years and i have no been in an accident while driving.. but i have been in a few while being a passanger and one was really bad and im still suffering the neck injury from it and the others were minor but just set off my pain condition so it felt worse than it was.. i have been very fortunate though.. i was in the car with my brother driving a little over a year ago and he was speeding heavily and he didnt see that there was a pile up that totally jammed all the lanes on the interstate and he didnt see it in time and if he hadnt gone off the road we would have slammed into the cars parked in front of us and also there was a narrow shoulder so if he had gone a little more to the side we would have flipped.. with the speed he was going we would have all been killed..

• Ireland
18 Sep 08
I have been driving for 46 years and have only been involved in one minor accident. I was stopped at the traffic lights and a learner driver drove into the back of me. She did quite an amount of damage to my car (which was only a couple of months old) and she gave me a lot of hassle and even refused to give me her insurance details. I couldn't stay in the middle of the road holding up the traffic so I just took her reg number and went to the garda station. I found out later, from the gardai, that it was her brother's car and she didn't want him to know about the accident. Then I also found out that she lived a couple of doors away from my mother in law. That was great because I called around to my mother in law and I let the whole neighbourhood know what a b*tch this person was. The gardai also calld to her house and that made me feel a lot better and of course I sued her for damages. Now touch wood that this is the only accident that I will ever have.

• Philippines
18 Sep 08
I haven't driven a car since I had the accident. It was 9 years ago I was on the driver seat my husband was teaching me how to drive it went on smoothly so smooth that my husband dozed off. I was concentrating on the road too much that I didn't notice the corner where I'm supposed to do a right turn. My husband suddenly woke-up realizing what happened suddenly jerked the steering wheel to the right. But it was too late we ended up hitting the waiting shed. The wind shield broke inwards I was wearing my seatbelt so I only gut cuts & bruises but my husband wasn't fortunate enough his whole face was cut some glass went into his eyes. I was so scared.

• United States
18 Sep 08
I have been in 3! 2 I was the driver and once I was the passenger! I had a horrible driving record as a teenager!


• India
17 Sep 08
Never, thankfully i've never been and i dont want to be coz i know i might , i put on excuses alot tat i had a car accident today lol in my mind i think that dammn what if it really happens i am attracting the thing towards myself which has never ever happened to me! i know m a fool but i love risks!