What will you choose??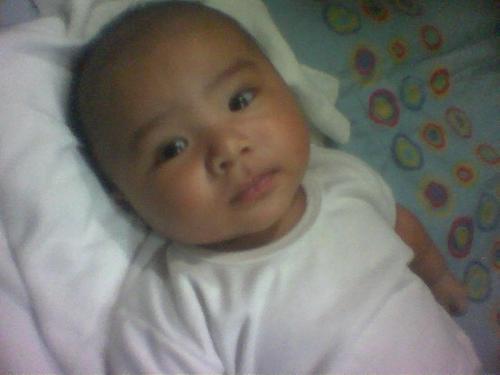 Philippines
September 18, 2008 12:03am CST
Im having a hard time to put what would be a good subject for this discussion, I cant find any good words to describe it.. ok here it is.. What will you choose.. If your in the situation that you need to decide between giving your kids a better future but you'll be separated with them for a long time AND staying with them and be a good mother but you're not sure if you can send them to good school someday? Every mother or parents wants the best for their kids, every parents are willing to sacrifice just to give them a good life also parents want to guide their children well guided and wants to see them growing and help them to be a good person when they grow up, but your in the middle of it and must need to choose only one situation, what will you choose?
6 responses

• Orangeville, Ontario
18 Sep 08
I believe that having a child is a gift from God. I tried for the whole six years of my first marriage to get pregnant and couldn't. Six months after the loser left I found myself pregnant. I was elated, but I was a single mom. But that child growing inside of me meant the world to me and she was going to come first. I raised her alone for two years. Being alone didn't make me the best mother in the world, and I still wonder whether I am all that great but my girls are 12 and 15 and they are great kids. They are smart, funny, athletic, talented and pretty. I'm not just saying that because I'm their mother. I look at them in awe and wonder how I turned out to have such great kids. I guess I'm doing something right. If you have faith in God, trust that He gave you this child for you to care for, and know that He never gives you more than you can handle, then you will do what you have to do to raise this child. They don't have to have the best schools or the best clothes. Good morals, food and a roof over their heads, and a good role model go a long way to building the character of a child. You never know what will happen tomorrow. God may bless you in some way you never imagined and you will be able to give your child what he/she needs. You owe it to your child, and God. And, if this is not about you personally, then I speak in the general "you" or "one".

• United States
18 Sep 08
I could not have said it better myself patgalca!!! I have two grown sons. I was a single mom for a short time after my first son was two. I remarried when he was four, had my second son when he was six. I got back into Sunday worship, then sent them both to Christian school through middle school. At times it was a big sacrifice but we managed. It was more important to us that they be in an loving environment so we did what we had to in order to provide them with this. I supported them in every way. I prayed with them, went to church with them, became a youth leader, got involved in their schools, studies, hobbies and spirituality. I taught them that the family that prayed together stayed together. My husband says that I am my youngest sons best friend. My youngest is the one that attended my youth meetings and helped to keep things going. We had a unique relationship because of it. God has blessed me immensely with those two boys, something I am most thankful for. Have a wonderful night.

• Orangeville, Ontario
18 Sep 08
Hmmm... similar situations. I had my first daughter by myself. Then moved in with a guy when she was two. Then I got pregnant again. We bought a home, had our baby then got married. It wasn't until we went to baptize our second child that we started going to church on a regular basis and then the children were in a Catholic school and I got involved with church activities as well (I am Lead Lector and a member of our Stewardship Committee). I do not like to judge but I feel my children are better kids because of the Catholic upbringing they are receiving. And being a good role model is imperative. They watch everything you do, even if you don't know it. A good night to you too.

• Philippines
19 Sep 08
You know what, this has happened to me before. I was studying away from home and doing very well. I knew that if I graduated from that university, my future would be great. But my mom made me go back to my country because she wanted the family to be together as a unit. I graduated from a good school here in my country but it's still not the same. If I have to face a similar choice when I'm a mother myself, I'll definitely make a sacrifice so that my children will have a better future. Wanting to keep you child close all the time is just purely selfish.

• Philippines
22 Sep 08

Yes, i think wanting to be with them is selfish, selfish in the sense that i know that if i dont go i cant give them a better future, we need to sacrifice for them, though it would be very hard i need to ovecome it, they say that one of my biggest hindrance that i may encounter there is the homesickness.. I hope i can cope with it..

• Philippines
18 Sep 08
If there is no choice and you feel like you cant provide a better future for your kids i think the best thing to do is work abroad and sacrifice for there futures sake. You cant be just a good mother by guiding and being there for them everyday. You can also be a good mother by providing them there needs the best way you can. When you see your kids starving and in need of food. I dont think you will just choose to stay by the childs side and let the child suffer. You always see to it that the child have a food to eat and a better place to live.If you see that the situation is getting worst and you were living in a place where you dont want your child to grow up. As a mother you will do everything you can to change things and provide them a better future. It maybe painful to be away from your kids. But at least you know everyday of there life they are somewhere out there safe and live a comfortable life. For sure when they grow up they will understand why you need to be away from them. I dont believe that some kids became bad because there mother is not beside them. Every individual has a choice in life and they choose that path on there own freewill. But it doesnt mean that there parents didnt teach them values or have never showed them love. Sometimes you have to make a choice for your families sake. If your child choose not to understand that, that is because he/she is selfish and think only of themselves and not because you have never been a good mother to them.

• Philippines
22 Sep 08
Right now, i have a good job but i think that the salary i am earning is much to provide them a good life, i came from a middle income family and i dont want them to experience what i have experience before... especially when we're in highschool and college days.. those time that i wanted to buy new clothes, new shoes but my parents cant give it to me right away coz of some other primary needs and that time 3 of us are going to school. I dont want to spoil my kids but i just wanted them to have a good life and send them to a good school. I am a graduate from a public state college school in our province and when i graduated from review centers to getting a job i always get some discrimination, everytime they ask me where is that province it made me melt (thanks that i may be lucky to have a good job in a big company) this are the experiences that i dont want my kids to experience also.. I may be selfish if a stay with them while i know that i may not be giving them a good future... there should be always a sacrifice, anyway i belive that my kid will grow as a good person..

• Philippines
18 Sep 08
as a mother myself i will choose to be with my children. no amount of money can buy back their childhood. by the time you have enough money to send them through elementary, you're gonna need more for their high school, then for their college funds. and when you return they're all grown up and caught up with their own lives and you are almost like a complete stranger to them. you'll just be known as the "one who sends me money." Conversations over the phone or being kissed and hugged online will never even come close to a real hug and kiss from a mother who's there when you need her. money can never ever buy back the past and much more, the future. as much as we'd like to lay down the red carpet for them to walk on, it is not us, the parents, who will make our kids' successes and failures in life. it will really be all up to them. sending them to good schools is and will never ever be a guarantee that everything will be all set out for them nor can it guarantee that they'll be rich or that the world would be kind to them. time will come when they'll have to make decisions on their own. some good. others bad. we just have to teach them how to follow their dreams, stand up when they fall and learn to move forward. in the end, the very basic core of a human being, the values that he's picked up from his parents - how he's been raised with much love, caring and togetherness - are the things that will really matter most.

• Philippines
22 Sep 08
As a parent we all feel that way but is there any guarantee that by staying with them i can lead them to thier success? I have experiences that i dont want them to experience, i came from a middle income family, I love my parents too much, i really valued them for striving to send us to school but there are experiences that my parents cant do anything about it, i came from a public school in province, when i graduated then go to review centers as a preparation for board exam i experience to be discriminated, when i was getting a job still the discrimination is there, at my fist time in getting job i hardly have it, i accepted a job which is i know it is below minimum, i just put in mind that this is just my stepping stone to other companies.. that was all because i came from a not well known universities and i dont want my kids to experience it. It would be hard for me as a mother to be separated with them but i need to choose which is the best for them and i think by accpeting the job outside the country will be better for us.. I dont have a plan to stay there for a long time, i may be there for a year or two then i'll quit my job there and have a local job

•
18 Sep 08
It's really difficult to choose but if you going to think of thier future then you would say you'll sacrifice for them. Maybe For me, im going to sacrifice being separated to them in a long time, but im going to choose the right time and on their right age to leave, i don't want to leave my kids in very young age.Maybe when they are in high school already then i need to work abroad for thier college.

• India
18 Sep 08
To be honest with you i would prefer to be separated form them and give them a better future than to be with them and give them nothing but love. The reason i say this is because, if i keep them with me and cannot afford to give them anything but love i would call myself shelfish. As i am spoiling their future just to satisfy my motherly affection!! Someday i wouldnt be there but they would be and if i dont give them a good future how on earth would they survive this hungry world!!??!! What i can do is hold my motherly affection and give them a bright future.