High heels for Babies? Are you kidding me?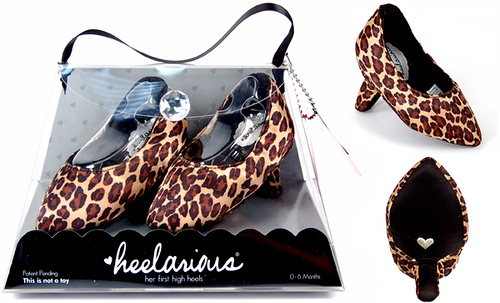 United States
September 19, 2008 9:18pm CST
Some of you may not agree but why not let babies be babies!!! Why do they need to be wearing high heels? let them grow up before you stick something on them that makes them look like a teenager or a 21 year old.. Yes getting their ears peirced isnt any better BUT i think the high heels are UGLY! earing atleast are pretty. What is your view on it?
3 responses

• United States
20 Sep 08
I agree that these shoes are ridiculous and take something away from childhood- or in this case- infancy. They are ugly and inappropriate, and contribute to the superficial, materialistic values parents teach their children. Girls are taught that they have to be thin, beautiful and uncomfortable in order to be attractive. Why not just put a cute pair of bunny slippers on a baby girl?

• United States
20 Sep 08

Thank you! So far i see im definately not the only one who thinks they are a dumb idea. But then again their are some parents out there who are actually buying them. i swear i dont see where some peoples brains are these days lol. I was hoping it was a joke when i seen it on tv but then i seen it was real and people were actually buying them. sad sad sad!!! lol

• United States
20 Sep 08
I saw this on the news & couldn't believe it!!! It looks totally unnatural & very weird. I would never buy a pair for my daughter. Why start them off young??

• United States
20 Sep 08

Exactly! i think they are so ugly! I mean why cant they be babies.. why do they have to grow up so fast and wear heels. i think it doesnt look right either. they are babies.. you dont see babies in heels.. thats just not right!


• United States
20 Sep 08
That's kind of over the top! But I hear they're soft, so they just crush when the child walks in them, she doesn't ruin her feet like real heels. They were meant for children who do not walk. All in all, I think it's just another step forward in our quest to deflower each generation earlier than the next. Maybe I'm exaggerating, but it is really goofy.