Do You Like Flowers? Which Flower You Like most?Do Have Plant Of Same In Garden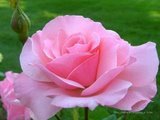 India
September 20, 2008 12:36am CST
Hey I like different coloured roses,sunflower,Nightqueen flower,...but of them I like all rose flowers very much..... I have a plant also of the same in my garden .... Do You Like Flowers? Which Flower You Like most?Do Have Plant Of Same In your Garden ? Thanks Ganesh
5 responses

•
20 Sep 08
Hi Ganesh44, Yes I love flowers and I love roses, I have a lot of rose tress in my garden and other plants and herbs too. Tamara

• China
20 Sep 08
I like dandelion most,but them couldn't be grown in garden.From the farmland to the hill on,the flowers which everywhere is in full bloom I all likes,their beautiful nature,seeing lets me think happily.But in my family has only planted thecactus,this kind of plant quite good survival.That's all.

• India
20 Sep 08
Hi Ganesh,I love flowers.Is there any woman who doesn't like flowers?Ilove roses too and I have rose plants in my garden and the pots too.I like gasmine and have the plant in my garden but that plants doesn't flower much only one or two flowers everyday ,but the smell of those flowers is very pleasant.thanks for sharing.happy mylotting.


• United States
20 Sep 08
I love roses and do have a rose bush. The sad part about it was it was supposed to be a bluish gray color rose and they all turned out red.

• United States
12 Sep 09
I love flowers. I like all different kinds of flowers in all different colors. I think that a good variety of flowers and colors in a garden is just beautiful. There are some gardens that are very beautiful with just a few kinds of flowers and colors, too, but I tend to prefer the more varied gardens.