good bye laptops...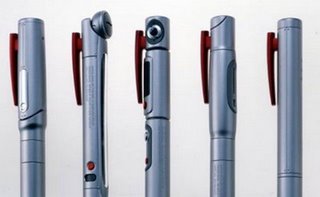 Indonesia
September 20, 2008 11:12pm CST
Can any one ever imagine of life without laptops or desktops now.!!! hmmm...yes but need anything else that replaces them. So Japan is always ready to help you out with their technology.Since its a time of micro technology, everything is modeled as small as it can be so you not computers. Amazing technology from Japan . . . but can you guess what it is?Look closely and guess what they could be...
5 responses

• United States
21 Sep 08
I've seen these pens, but I can't figure out how I'd avoid losing one, as I lose my pens all the time!

• United States
21 Sep 08
It isn't just too expensive; it contains too much of importance!

• India
21 Sep 08
although the technology is changing very fast adn that is one big thing in the field of science. but we have to also understand how fast normal people that is common man can adopt to that. like still people are so much comfortable with laptops and also the price is also so cheap where as the laptops are cheap but when the time comes for any replacement or upgrade it is so very heavy on to your poclet and that is one major problem. so i think it is always better to plan the development and then go ahead.

• Singapore
21 Sep 08
Well... I looked quite hard at the pen. Is that a speaker on top of the pen? I also see a 'screen'. It seems that the pen can 'transform' into a computer. Pretty cool, although I doubt its feasibility. Unless we have more advance technology such as holograph, I see little uses of such 'computer' pen. Although, it is interesting to note that are other products available which allows a pen to record sound as well as your writings and convert them into the digital form.

• Malaysia
21 Sep 08
I guess they are pens. Useful and easy to carry around. I lose pens easily too. I am sure the fonts and images must be very small. I still prefer desktops.