Is breaking up much harder on men than women?

Malaysia
September 21, 2008 7:27am CST
As the song says,breaking up is hard to do. How many of us find it hard to accept the reality of a breakup either in marriage or in friendships? I think women are hurt more than men as they are by nature extremely emotional. Do you think men take it as bad as women? Have you ever experience the emotional pain of having someone ditched you?
6 responses


• United States
21 Sep 08
[i]Hi zandi, I believed it depends, like when it is the women who break up, it is less painful for her compared to the boyfriend and vice versa! just my opinion! I have tried in the past but I didn't find it very very painful because there are valid reasons and it was the best to do so that time and for friends, I sometimes feel how we waste the friendship but I prefer to detached myself when the friend will just stab me at my bac[/i]k!




• United States
21 Sep 08
I think it depends on the person it seems everyone takes it differently!

• India
21 Sep 08
I think it depends upon the will power he or she possess. For both situation first to indulge into the relationship and strong will is needed and in the other situation of break more strong will power is needed and the women is the weaker in both the situation and more prone to emotional blackmailing. Since the men have more strong will power in comparison to the women it is difficult for the women to say I break but it is more casual for the men to say.

• United States
27 Sep 08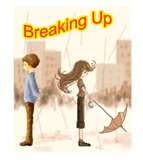 I have to agree with you here Zandi, women do tend to take it a little harder than men do and the reason is because we are a little more emotional than they are. You see, thanks to the estrogen levels in our brain, we think and feel on both sides of the brain whereas a man has very little and is only able to think and feel on one side of the brain. I've never been ditched but been the ditcher but the pain is still the same, it's hard

• Canada
22 Sep 08
I don't think that gender has anyhting to do with it. I think it has to do with the type of relationshipship, how close the couple was, and the reason for a brea-up. I think a partner who was cheated on, thus ending the relationship would have a much harder time leaving, than a partner who left a relationship because their partner was honest with them and told them that the relationship was over. I've known both men and women on either end of both and other situations.