what book are you reading right now?

United States
September 21, 2008 1:32pm CST
hey everyone... just curious as to what book you are currently reading? are you enjoying it and would you recommend it? i am reading "Promise the Moon" by Elizabeth Joy Arnold and so far i am really enjoying it. i think i would definitely recommend it.
7 responses

• United States
23 Sep 08
I am reading Mansfield Park by Jane Austen. When it started out i found it a little boring, and different from the others i have read by her. Then a third of the way through it was hard for me to put down, i just have to see how things work out for these characters. I mean there is this guy who gets pleasure out of making girls fall in love with them when he has no intention of doing anything about it. Then he finally falls in love, with a woman who detests him. Where i am at now he is trying his hardest to prove his worth to her, and its so not working.

• United States
23 Sep 08
that actually sounds really good. i typically don't get into classics, but i may try to read that one. thanks for the response. :)

• United States
23 Sep 08
I love Jane Austen and have read three of her books. My all time favorite novel is her Pride and Prejudice. Anyways i was a Barnes and Noble the other day and they had this beautiful leather bound book of seven of her novels. I had to have it. I am on the third in the book, which is the one i mentioned.

• United States
21 Sep 08
Hi , I am in the middle of the Stephen King series , The Dark Tower . I am on the Wolves of the Calla . I actually stopped reading Stephen King when I was younger , around twelves years old till someone turn me onto these not so long ago . This series had completely got me back into to Stephen King and his stories . I love how every book is connected in someway .

• United States
21 Sep 08
my dad used to read stephen king all the time. i don't think he really does anymore, but i remember when that is all he would read. i have never tried to read any of his books, but have seen a few movies based on his books (who hasn't). my favorite is Cujo- man, i am still scared of big dogs after seeing that one! :)

• United States
22 Sep 08
I am one of those people that will say , the book is better than the movie . Yet I enjoy his movies also . If you ever get a chance check him out . He is a pretty thought out author. :)

• Philippines
25 Sep 08
Hi!, I currently reading The Faery Reel, it is a fantasy book consist of short stories of different authors including Neil Gaiman(Stardust),Holly Black (Spiderwick Chronicles), Gregory Maguire(mirror,mirror) etc. It was really interesting book, so far, I quite enjoy reading the stories, the stories was kinda folktales from all over the world, very fascinating. If you're into fantasy genre, you will like this and I definitely recommend it.


• United States
25 Sep 08
hey kylie- thanks for the reply. i don't usually read fantasy books, but it does sound interesting.

• United States
23 Sep 08
I went to a flea market last week and bought a bunch of books .50 each. I am reading Cemetery of Angels by Noel Hynd right now (its so-so), but I am looking forward to the new ones I bought: Kiss of the Bees by JA Jance, the Ruins by Scott Smith, and believe it or not, the DaVinci Code. I have been waiting to read that one until I could get it cheap or free. I was able to find a hardback in great condition, only .50!!! I love flea market books!

• United States
23 Sep 08
that's awesome! i know what you mean... i go to the local salvation army- they always have a ton of books there, and i almost always find something dirt cheap. it's great. i also like to go the the library book sales- they have them a few times a year at different libraries around here. finding something is hit or miss, but it's always fun to look, and i usually can at least find something for the kids. my hubby just told me the other day that the boys are starting to have too many books! i told him that is never possible- i would rather my kids have an abundance of books than an abundance of toys! :)

• Canada
23 Sep 08
I'm reading Emma by Jane Austen. I just started it and so far im enojoying it.

• United States
23 Sep 08
that's great- i don't read classics. i really should try to more, but i just can't seem to get into them. thanks for the reply!

• United States
21 Sep 08
I just finished Jodi Picoult's Keeping Faith. My kids and I were at the mall to play and I forgot a book. We stopped in Walmart, and since I love Picoult, I decided on Keeping Faith. Very, very good. I would recommend this book. It's about a little girl whose parents are divorcing and she has an "imaginary" friend she calls her Guard. The beginning was a bit of a bore for me, but like some of her other books, once I hit a certain part I'm hooked until the end. I'm going to have to pick up another one of her books, because I have nothing left to read! LOL.

• United States
21 Sep 08
i have read a few of her books- she is one of my favorite authors! if you haven't read them already, i would recommend "Nineteen Minutes" or "My Sister's Keeper." Both were so good.

• Romania
21 Sep 08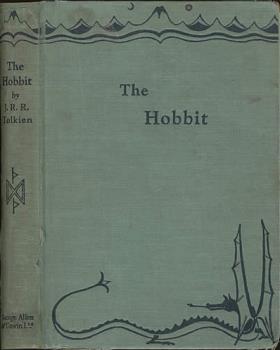 I've just read J.R.R. Tolkien's Roverandom today, and I started The Hobbit, by the same author. The Hobbit, or There and Back Again is an award-winning children's book and fantasy novel by J. R. R. Tolkien, written in the tradition of the fairy tale. Tolkien wrote the story in the early 1930s to amuse his three sons. It was published on 21 September 1937 to wide critical acclaim, being nominated for the Carnegie Medal and awarded a prize from the New York Herald Tribune for best juvenile fiction. More recently, The Hobbit has been recognized as the "Most Important 20th-Century Novel (for Older Readers)" by the children's book magazine Books for Keeps. The book has sold an estimated 100 million copies worldwide since first publication. I've just bough a bunch of books by Tolkien and that's what I'll be reading in the near future.

• United States
21 Sep 08
i have never read any of his books. i think my husband has, though, and he liked them. he is for sure one of the best authors of all time- even though i have never read his works i have heard others rave about them. thanks!