Did you have a party on your 1st birthday?

Philippines
September 22, 2008 5:07am CST
My nephew celebrated his first year birthday yesterday and there was a small party to celebrate the occasion. The kids from the neighborhood came and kids of friends and relatives. Its customary in our culture to celebrate ones first birthday. Our folks believe that the celebration will bring good luck and good health to the child.
7 responses

• Philippines
22 Sep 08
Hi!

Yup I did celebrate my first birthday my mom told me that and I have some pictures from the party. I agree with you that it is a customary in our country to celebrate every first birthday. It is also said that we should celebrate every 7th, 18th, 21st and 50th birthday. But in my opinion I think it's not only the first birthday but every added year to our life will bring good luck and good health. Ciao!


• Philippines
22 Sep 08
Hi there. Yup, all the years that added to us are important. Lets be happy every year of our birthday.


• Philippines
22 Sep 08
Yes i agree that celebrating birthdays is believed to bring good luck, good health and good life to someone. My family is fond of celebrating birthdays. While i don't know if my first birthday was celebrated, as I wouldn't really be able to remember that far back, I am sure though that there was a celebration as it is a tradition in our family to celebrate birthdays, one way or the other, especially the children's birthdays.

• Philippines
22 Sep 08
I agree. It also has a positive effect to the child. Birthday parties show that they are important and that there are many people who love him/ her.


• Philippines
22 Sep 08
Hi there Watarikenji! Here in the Philippines, you should throw a grand party, if you can, on first birthdays. I had a big party on mine. We were able to do that because I was the eldest grandchild and the eldest in in our family too. SO we don't have much to spend on.

• Philippines
22 Sep 08
Hi friend, Its nice to know that you had your own party.


• United States
24 Sep 08
I am 49 years ols and have never had a birthday party

• Philippines
23 Sep 08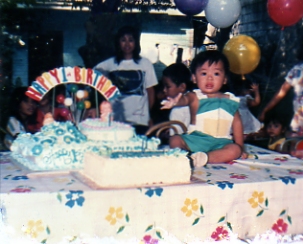 I have just one child and his every birthday is marked with a joyful celebration. All friends and loved ones arfe invited. There are parlor games for the kids and lots of giveaways to complete their day. Of course their favorite spaghetti is always served along with ice cream and many different food. It is our way of thanksgiving to the Lord for all the blessings, protection and guidance given to our son and for the blessing of another year added to his life. We do not believe that it will bring good luck and good health but rather we believe that we should always be thankful to God in everything. Each day added to one's life is a blessing from God, how much more a year!


• Canada
25 Sep 08
Until I was school age, and could make childhood friends of my own, my birthday parties consisted of family, adults, my sister (4 years older than me) and sometimes our cousins. When we were in kindergarten and grade 1, we started making friends and celebrating birthdays with them every year.