Rock Tumbling For Jewelry Making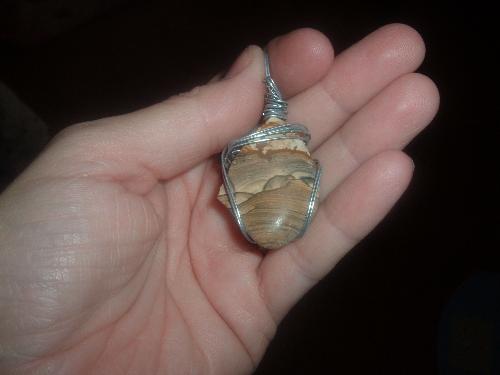 United States
September 23, 2008 10:24am CST
As I have posted previously, I am now learning to wire wrap. My mom gave me her rock tumbler, to tumble some rough gemtsones, for wire wrapping projects. I hooked it up last night, and have some stones currently tumbling. I just purchased some rubies to tumble, and have some Amethyst rough already. I am excited to see how they turn out. They take a very long time. Here is a Picture Jasper pendant I wrapped for a friend in Nevada. She donated to me a bunch of stones, she tumbled herself, and I made this for her to thank her. It is not real fancy, but I didnt want to hide the picture on the stone.
5 responses

• United States
24 Sep 08
That piece of Jasper is beautiful and it turned out very pretty. It reminds me of the many layers of the Grand Canyon. I had thought about buying a rock tumbler once I move towards using gemstones in my creations, but I wouldn't want anyone thinking I tumbled my unfinished sea glass. (I find many pieces that need a few more months of tumbling around in the ocean before they are 100% "ready" and I wouldn't want anyone thinking I alter my sea glass in any way) I would like to add semi-precious stones to my components one of these years. Some of the pieces, like the picture Jasper is just gorgeous and I'd love to make pendants as beautiful as the one in your image.

• United States
24 Sep 08
You could always clearly state that your sea glass, has not been treated in any way. That should be enough for any buyer. Plus I think they could probably tell if you had treated it in some way.

• Finland
24 Sep 08
Hey, that's REALLY lovely! I LOVE the way you wire wrapped it! I'm sure your friend would love it! :-))) GREAT JOB!

• United States
25 Sep 08
Thank you, it is not as fancy as some, but I didnt want to cover the design


• Australia
24 Sep 08
I have always love crafts, that looks like a great craft, I love stones and gems, I used to do a little bit of charm jewellery and sometimes I would add small gems and stones to them, I think you will do well making beautiful jewellery like that, goodluck to you..

• United States
9 Feb 09
hi.i am not trying to be nosey.but,i looked at the posting of your jewelry.you have some very beautiful pieces.did you make them yourself or did you buy them.i have always been interested in rocks and jewelry. i have to tell you i have never made jewellry my self.but when i worked in china i drew up a ring for my wife and had it made for her.the person that made it liked the ring so mush that he asked if he could use the Patten and sold a few like it.i have wanted to get into cutting the stone my self but have not found the time yet.

• United States
10 Feb 09
Unless it said I did not make it, it was made by me. I do not cut my own gemstones, though I would love to learn to be a lapidary. I do not melt my own precious metals, and make the casts either. I collected loose gemstones for many years. Then I decided to teach myself to set the stones in castings, and semi mounts myself. I am learning wire wrapping, and beading but they are not my favorites. I continue to learn, and would someday love to be able to have a jewelry business where everything is made from myself, the castings, and the cutting of the stones.

• United States
11 Feb 09
I first started with Fire Mountain. I love their gemstones, they are excellent quality. Their gold is higher than others, and their settings are kind of plain, but yes the quality is good, and their customer service is superb. I use Rio Grande, Jewelry Television, and various sellers on Ebay.

• United States
11 Feb 09
thank you for responding.once i get back to work.i plan to try out getting some setting and make my wife some things.she will get a kick out of that