Trouble In the Bath with Babies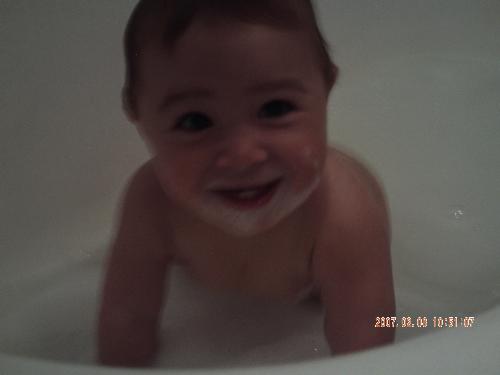 September 23, 2008 2:40pm CST
I and my husband have always a turns to take our baby into bath. But most of the times my hubby do that job when he is on morning shift and he came home early. We always have a trouble with our babies on taking him to bath, he more likely to crawl around the bath, stand and do the pushing until he drops himself and hurt himself to the bath. So mom's or parent's here, are you have same trouble on your babies? How do you handle it? Thanks for sharing. Keep posting!
5 responses

• United States
23 Sep 08
My son loves to stand up in the bath. He is constantly trying to throw his toys out and then chase them head first. We decided to take him out of the bath when he started to get too restless, and not let him back in. So far this has only resulted in tantrums, but I hope that within the week he will learn to stay seated.

•
23 Sep 08
my son is the same whilst having a bath i think the key to keeping him safe is to have a large bath mat in so he doesnt slip too often and basically just keep a very close eye on him until he is old enough to understand the consequences of a fall in the bath you just need to keep eagle eyed lol good luck with it and i wish you all the best

• United States
23 Sep 08
I used to do that as quickly as I could. I would have the bath full before I put my baby in. Then once he/she was in, it would be scrub, scrub, scrub, .....then rinse, rinse, rinse, and out of the tub! Babies are not that dirty and there is not that much surface area to clean:) They don't need to soak. As I said "Make it Quick!"

• United States
24 Sep 08
Though bathtime for babies are fun and special, it is also the time you have to be very cautious. The first and most important rule for bathing babies is: Never, ever leave your baby unsupervised, even for a minute. It is always safe to fill the tub with only 2 to 3 inches of water for babies up to 6 months old and never more than waist-high (in sitting position) for older children. You say that you are not able to control your baby during bathing. If he is able to sit, a bath ring suction-cupped to the bottom of the tub may help you to manage him. Also teach your baby to sit (not stand) in the tub.

• Philippines
25 Sep 08
Hello there my friend! I have 3 boys now ages 5, 3 and 4 months, they are naughty and plays a lot but for some reason I have no troubles giving them their bath, maybe I just let them play (like I would let them sit there for some time) while my baby, sometimes he moves a lot but he is not fussy when I bathe him.