How often do you drink coffee?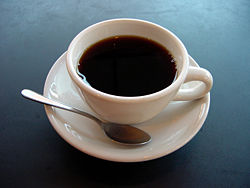 Philippines
September 23, 2008 8:43pm CST
Hello... Good day!! How often do you drink coffee in a day? Coffee is a stimulant beverage from roasted seeds commonly called coffee beans of the coffee plant. I like to drink coffee in the morning because it boost my appetite in eating my breakfast. Breakfast for me is not complete without drinking my coffee in the morning. I like brewed coffee a lot because of its soothing aroma, it makes me feels good all through out the day. I like to drink it while it is hot and I really love it with my pan cakes on the side. How about you how many cups of coffee do you drink in a day? Happy mylotting my friends.
7 responses

• Philippines
25 Sep 08
I like to drink coffee every morning during my breakfast. My breakfast wouldn't be complete without my coffee. Like you I like brewed coffee because of its soothing aroma that is so relaxing. But I often drink instant coffee because it's always available and easy to prepare. Happy mylotting..

• India
24 Sep 08
Hello! I drink coffee twice a day not because I like it but because it lowers the risk of heart diseases and prevent colon cancer.However,I am a big fan of green tea which I drink five cups daily to keep my health in tact.thanx.

• India
24 Sep 08
i like coffee but dont drink it that often as all of you guys , i have maybe once a week. but i have cold coffee a little more often or i like to have chocolate shake or some other shake. anyways happy mylotting cheers. . . to the spirit of drinking coffee which everyone enjoys taking a break with or to start a day with or just chilling with cheers. .

• United States
24 Sep 08
I start the morning at the office with a big jug of ice and I pour my hot coffee over it. Ice coffee is very good. I used to be a continuous coffee drinker but, that one jug (probably about 20 ounces) is enough for me. Then I switch to water for the rest of the day.

• Paraguay
24 Sep 08
Good day mhae15! I drink coffee every day, I drink one cup at the morning to start the day, then at work I drink about 2 cups of coffee, after my lunch and around 6pm when I'm about to leave the work.. then at home again before sleep.. It doesn't help me sleep better at night but I cannot leave my coffee!

+

• United States
24 Sep 08
I drink coffee a few times a day. I usually make 8-10 cups in the morning and drink it throughout the day.

• United States
24 Sep 08
Most days, coffee is all I drink from morning til I go to bed. I'm one of those weird people who just loves the taste of coffee. I don't drink it for the caffeine or a rush or anything like that... I just love it.