I met the President of the United States at a Picnic!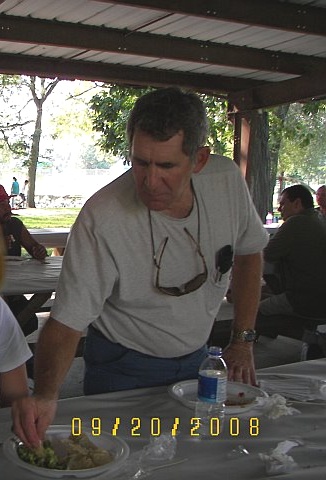 United States
September 24, 2008 5:06pm CST
.....Ok, not really... This past Saturday my family and I attended a picnic that was being hosts for employees and their families by the company that my husband works for. It was a big event with games, a raffle for some awesome prizes, (none of which we won;

), and they even had some pinatas for the kids. Anyway, one of the company owners were in attendance and I swear he could pass for George W. Bush's twin! Apparently this isn't just my opinion either because before the picnic was over I even went up to him and asked him, without even mentioning the president, "How often do people do a double take on you?" His immediate reply was; "If you're referring to George Bush, quite a lot!"...He went on to say that it really ticks off his wife, but that part isn't that important, I only included it because I felt the need to wanna! lol Anyways, one of the women who work where my husband works was taking a lot of pictures at the event. At my husband's request, she emailed the pics to him. I looked through the pics and found one with the guy I'm talking about in it. I don't think it's the best pic for this topic since it is not a straight on shot of his face, but it's the only one I have and I think it will still work so I have included it in this discussion for you all to see. So tell me, what do you think, does this guy look like George Bush or what? And, have you ever met anyone who was almost a dead ringer for a celebrity or famous person?
4 responses

• United States
24 Sep 08
From that angle I see a bit of an Ollie North resemblance but I definitely see how his face looks like George Bush! I would think his wife would enjoy it a little but I suppose maybe it could get annoying.

• United States
25 Sep 08
Yeah, if I had a shot of his face straight on you would be able to see it better, but oh well, we work with what we have.

Maybe his wife is not a fan of the president? lol

• United States
25 Sep 08
LOL...good point! If my guy looked like that I'd probably get irritated about it. Didn't think about it like that before.

• United States
3 Nov 08
His face is just a bit 'longer' but yeah, I definitely see it.


•
22 Oct 08
Well some people think I look a little like Robert de Niro all the best urban

• United States
24 Sep 08
You are right!! He definitely looks like Bush, although he could be taken for his twin because he is a little fatter than Bush. And he looks more homelier, if you know what I mean

. Well, I haven't seen anyone that resembled a celebrity so much, but there were pretty some instances when I have looked again just to make sure and there surely were differences... they wouldn't have looked like a twin!! You sure have a lottery in your hand! There is one magazine that I remember that posts pictures like these of a celebrity and a look alike. I am not sure about the name of the magazine. If you know any that does post look alike pictures, I'm sure yours will be taken in. Good luck

.

• United States
24 Sep 08
Yep! I know exactly what you mean! I don't know of any specific magazines that do that but maybe I will look into it!