shampoo...

Philippines
September 25, 2008 10:39pm CST
Do you use shampoo??? hahaha... If so, what BRAND of shampoo do you use or have tried? What brand do you think is the best?
4 responses

• United States
26 Sep 08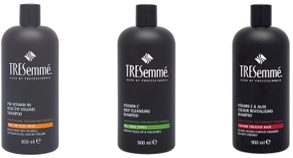 lol, yeah, i use shampoo and i use it daily lol

i have tried a bunch of different kinds like, dove, head & shoulders, baby johnsons, redken, panten, herbal essences, suave, garnier, and so on i'm sure lol but i currently use TRESemmé... it makes my hair feel so soft and good. i love it and i like dove.


• United States
26 Sep 08
I've tried so many different kinds!! My favorite and the only one I'll use now is Tresemme. I use the shampoo and conditioner because I color my hair and it's really curly and Tresemme is the only kind I can use that keeps it manageable.

• India
2 Jan 09
SCHWARZKOPF shamppos and conditioners are the best ....they might be very expensive,but still they are the best.... just try once, u will feel the difference

• United States
16 Nov 08
Yea I like shampoo but I always buy the ones that come 2 in 1 shampoo/conditioner together. I cant use them seperate then makes my hair all snarly etc...I like pantiene, herbel essence, aussie and suave...I switch every now n then.