Do you enjoy fall or dread the winter that follows?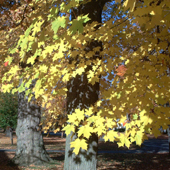 United States
September 26, 2008 10:45am CST
In the southeast we are just beginning tose the beautiful colors of fall emerging. Fall is my favorite season. I enjoy seeing all of the beautiful colors and the cool evenings. I don't really dread winter and I put off thinking about it until it arrives! LOL Do you enjoy the fall or does it remind you that snow and ice are around the corner?
3 responses

•
26 Sep 08
I like the colours of the trees in the autumn, they're just gorgeous. I have lots of trees in my garden, and they change colour nice and slowly, they go a beautiful red colour and then they go brown and drop from the trees. I love autumn, and I love the snow in the winter too, so I don't worry abour the winter coming, as I love it almost as much as the summer!

• United States
26 Sep 08
I'm with you! I like summer better as I think anyone enjoys being able to get out and the darkness in winter makes it rough but I don't dread it. Wouldn't do me any good if I did! LOL

• United States
26 Sep 08
I love fall! This is my favorite time of year. The leaves change, the weather is comfy. My birthday, my brother's birthday, Halloween, Thanksgiving, and Christmas are just around the corner. I look forward to winter, too. I hope we get a good snow this year, though I don't care too much for ice :P

• United States
26 Sep 08
I can do without the ice too! We had a terrible ice storm a few years ago and was without power for 2 weeks. Don't want to relive that! LOL Happy Fall To ya!

• United States
26 Sep 08
I love this time of year, and the winters here in NW Florida are not usually that bad either. What I hate and dread are the Spring and Summer months. I dread the Spring, because I am allergic to pollen. I have some pretty severe allergies that time of year. I hate the summer, because the heat and humidity here are so terrible. I love it when the cooler weather gets here, not to mention all the colors of autumn...

• United States
26 Sep 08
Yeah my rest time from allergies is the winter so I don't mind it coming at all. Gives me a break from all the Allegra! LOL If I lived in Fla. I would have to buy stock in the company! Have a great day!