Christmas traditions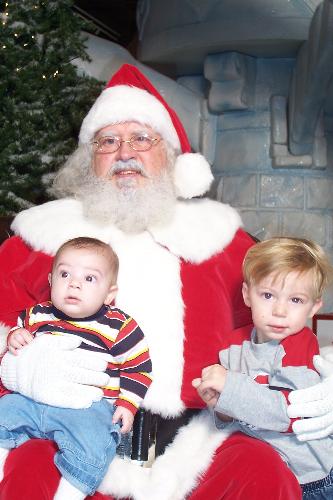 United States
September 28, 2008 9:57pm CST
well, Christmas will be here before we know it, and i can't wait! i was wondering what traditions, if any, you have around the holiday season? my husband and i bring our two boys to this place called Ridge Road Station every year around Christmas time. it specializes in model trains, but they have millions of Christmas ornaments, toys, games, novelties, candles, etc as well. there is a big room with all these model trains going around and around the tracks- the boys could stay there for hours just watching them! we always walk around for a while (it is a big place) and look at everything there, and there is usually a weekend when they have live music and wine tasting and free hour dourves and such. there are huge Christmas trees all around the store that are completely decorated- they are so pretty to look at. we have made that our own family tradition. how about yours?
3 responses

• United States
29 Sep 08
Well my kids are still young but i have been trying to figure out a good tradtion to start with my kids My husdbands family does have a few but I want my own, when I was a kid we used to decorate cookis shaped into santa elves riendeer ect with icing and things I would like to start doing that with my kids but iam also hoping to start sometype of decorations thing like making a few decorations rather than buying them

• United States
29 Sep 08
mine are both young as well- 1 and 3- so i wanted to try and start something now so that we could continue throughout the years. i wanted to buy them each a new Christmas ornament every year, also, but that one kindof got forgot about. :)

• United States
29 Sep 08
That sounds like so much fun! I wish we had a place like that here in Dallas to go and see. My husband and I pop some popcorn, get some drinks and we go and drive around and look at the lights. And there's a place near my parents house that you can get down and walk around and then there's Santa waiting to talk to the kids! We love it and they serve Hot Coco with tons of marshmellows and the Christmas music is blaring. It's so much fun and the kids look forward to it every year. And other thing we started a couple of years ago is we go to Six Flags for the Holiday in the Park! That's so much fun and my kids love riding the sled on the mountain of snow.

• United States
29 Sep 08
i didn't realize six flags did that! that's so neat- it really sounds like fun! thanks for the reply!

• United States
29 Oct 08
We have a 2 or 3' Christmas tree with fiber optic lights on it that we put up every year, a nativity scene that my oldest brother and his late wife bought me, Christmas stockings for Hubby, myself, our cat Morgana and my late dog and best friend Petey...we also have special ornaments that I bought when my Niece was small and when my Nephew was born. Hubby and I buy one new ornament every year we're together, I mark the date on it and it goes on the tree. My Mom also buys me an ornament every year and has my name and the year put on it. Alot of this is tradition, we do it every year b/c it's a way to join the families together. [b]~~IN SEARCH OF PEACE WITHIN~~ **AGAINST THE STORMS, I WILL STAND STRONG** [/b]