Do you love to eat sweet foods??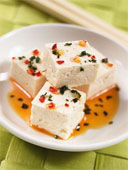 Philippines
September 29, 2008 7:11am CST
I like to eat sweet foods such as cakes,candy,etc.. Sweet is one of the five basic tastes and is almost universally regarded as a pleasurable experience.. Foods rich in simple carbohydrates such as sugar are those most commonly associated with sweetness,although there are other natural and artificial compounds that are much sweeter some of which have been use as sugar substitute.. How about you?? What kind of sweet foods do you prefer to eat??
8 responses

• Philippines
30 Sep 08
Oh I super love sweets especially chocolates. But now I am trying to stay away from the dangerous kinds because it is not healthy. I just try to eat it in moderation or just try an alternative like fruits but still the taste of chocolates are heavenly, LOL!

• Malaysia
29 Sep 08
As to me, i don't ever like to eat sweet foods after the age of 14. After the age of 14 i had started thinking of my health, as to me sweet foods can cause us infect some disease, for example: diabetes, decayed teeth if we do not brush our teeth after eaten sweet foods. In my mind, i always remind myself that in medical principle had told us that we must not taking too much sugars that are more than 50g in our daily live, because if we excess taking too much sugars will cause our body immune system become infirmity. When our body immune system become infirmity we will infect many diseases. If we infected diseases, we pay the medicine fees for treatment, so that i will not be so stupid to pay more money than the sweet foods. On the other hand, sweet foods cannot be less in their daily live, because every food that are sweet to them they will like it very much, but when they grow up they will feel regret because of excess eating sweet foods cause them have many decayed teeth in their mouth. That's all i want to share to everybody, thank you for sharing.

• Philippines
29 Sep 08
I don't like eating sweet foods. It will make me weak at night and sometimes can cause even tonsilitis in me.

• Philippines
29 Sep 08
I dont like so much eating sweet foods. If it sweet i will just eat a little..I dont want to wait till my throat will not feeling well of eating sweets. Besides i am afraid to have a diabetes. Its okay to eat sweets anyway but not too much..its for our own good and for a healthy lifestyle.

• India
29 Sep 08
Well, I relish sweet dish. In India we have large number of sweet foods. But when it comes to western sweet foods, I like cake and ice cream the most. In Indian sweet food my favourite is Ras Malai and Kheer. My mouth is watering as I am typing these words, hehehe.

• United States
29 Sep 08
Sweets are my biggest downfall! I love cake and candy bars and pie and ice cream and anything sweet yummy. I have been on a diet though now for a couple weeks and have not touched a candy bar I have has some weight watchers ice cream it is not bad although not as good a the regular.

• India
29 Sep 08
I am lover sweets and i take 4 to 5 pieces at single time with all milk sweets and chocos too. Here in my place we have wild varieties of sweets say more than 100+ and am trying to taste best sweet whenever i travel to various regions and bring home also good quantity of sweets