would you kill a snake for your protection????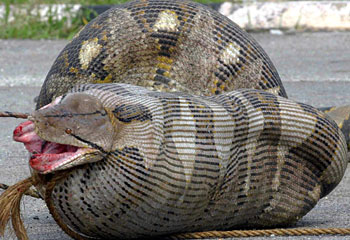 India
September 29, 2008 4:13pm CST
well, question is very simple, 1)would you kill a snake(say cobra) if you see it in your room. if you say yes,,then next question is for you 2)would you kill a child of snake(lol,,i dont know the exact word),as it cant harm you at present? thanks.
8 responses

• Malaysia
2 Oct 08
hi ramangill, snake is my nightmare ... i cant even watch it on tv and i will dream it is chasing me ... if i see snake in my house of room , i will run out first and will never get close to kill it ... Leave it to any other people to do the dirty job .. It has been years i saw snake , since i am staying in apartment, my fear is lesser ... but at times when i dream, i can imagine, the snake climbing up the walls to my house I dont kill the snake for fear (i am a cowardy coward ) cheers

• Malaysia
3 Oct 08
..... all they see is human .... nothing else ...


• India
29 Sep 08
i killed one baby snake few days ago,, i didnt want to kill it,,but my mother forced me to do so, i felt sad


• United States
29 Sep 08
It is sad to have to kill anything. But if it's them or me, then it's them.

• Honduras
29 Sep 08
I would, I've read that baby snakes pack more venom than an adult one.

• India
29 Sep 08
its sad,unfortuantely we dont know any other way also


• United States
30 Sep 08
For my protection and the protection of my family, you better believe it. That snake(s) would be history.




• United States
29 Sep 08
What did that python eat? A truck tire? If the snake were in my home and poisonous, yes, I would kill it if it was threatening me or my pets. Baby snakes (I don't know what they're called either) are another matter. I wouldn't necessarily kill the babies, but I would definitely lock my pets up and call animal control because if you have baby snakes you have a nest, and mom is around somewhere. They don't take care of their babies the way mammals do, but snakes tend to nest together, so you might have several around.

• India
29 Sep 08
you are scaring me. by the way yes there are many in our area,, well they have decreased in number now,,but few years ago,,people of our area used to kill atleast 15 snakes in our area each summer season.

• United States
2 Oct 08
Probably not something to be scared about, although I see you live in India and that's where cobras and kraits, among others, are found. As you well know of course. I live in the USA, in West Virginia, and we only have the 2 poisonous snakes, thank heaven. Most snakes are more scared of you than you are of them. But don't corner them. That's when they can get mean, trying to escape. I hope the one you killed just got in somehow from outside. Stay safe.