Riddle Me This!!

United States
7 responses


• United States
2 Oct 08
yes, tallest is irish wolfhound ( i love them! :P) but largest isn't the mastiff either :P



• United States
2 Oct 08
oooo no but I love them!! lol. Getting closer though...greta pyrenese is the closest so far (in my opinion) lol.


• United States
2 Oct 08
All good guesses! Irish Wolfhounds are the tallest breed, but not the largest. And I guess they've found a new largest breed since the english mastiffs.

• United States
1 Oct 08
The English Mastiff is the biggest dog breed in terms of mass, weighing in at an average of 175-190 pounds. The largest English Mastiff on record weighed in at 343 pounds and measured almost 8 feet long from nose to tail. http://www.bigpawsonly.com/biggest-dog-features.htm

• United States
1 Oct 08
This sort of thing is against myLot guidelines.

• United States
1 Oct 08
O.o what's against mylot guidelines? I just made a little fun discussion about dogs.

• Hartford, Connecticut
1 Oct 08
well, It isn't much of a game- she's asking for other people opinions on what they think is the largest dog. obviously There is only going to be one winning breed. but some people who are not aware, may actually learn from this discussion thread.


• United States
15 Oct 08
Do you mean as far as weight goes or as far as height goes? I'm not sure, but isn't a Great Dane the tallest? As far as the biggest in weight I'd have to guess a Mastiff.

• United States
17 Oct 08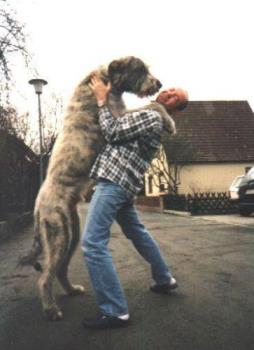 Well I mean based on the breeds height and weight ratio. No, Great Danes aren't the tallest, I think they are second. The tallest dog now is the Irish Wolf Hound (great dogs):) But as too my question; recently Saint Bernards have been accepted as the largest breed. *I'm adding a picture of an irish wolfhound to this response so you can see how large they get!:D They get HUGE!*

• United States
18 Oct 08
lol yeah! I would LOVE to have one...amazingly we haven't had any Irish Wolfhounds come into the PetHotel I work at...we've had lots of Great Danes...no Irish Wolfhounds...I would love for one to come in!! A giant one! lol :P


• United States
3 Oct 08
You're right! :D It is Saint Bernard :D But...someone guess that right before you above

• United States
3 Oct 08
One of my dad's friends has a mastiff that weighs 238 pounds!!! His neck is 38 inches around!!! I love big Great Danes and mastiffs, they're such gentle dogs for being so huge!!! I think Irish Setters are absolutely gorgeous as well.

• United States
3 Oct 08
Yeah I love all the big dogs...they're all gentle giants! :D I like every dog that was mentioned during this discussion. And I actually am beginning to really like greyhounds. After working with a few, I absolutly love them!! :D They are beautiful, very sweet dogs :) Whoa! That is one big Mastiff! hehe.