Planning a Wedding

United States
6 responses

• Canada
2 Oct 08
first you should plan a budget i think and then make a list of things that you want/need for the wedding. go to your local library and get some wedding planning idea books and then you get busy. the idea of making your own invites is a great one!

• United States
2 Oct 08
We have so much to do and only two more weeks. Getting well organized is going to be a big help. Thanks for your input.

• Philippines
2 Oct 08
for invitations, i think you should do it yourself. its much cheaper and you'll do what you really like and no one is going to be left out! just a tip!... that's what my friend did! you can use desktop publishing softwares and print it out! :)

• United States
2 Oct 08
That's a wonderful idea. Thanks for your input.

• United States
2 Oct 08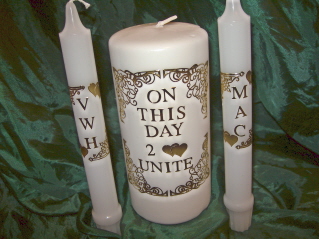 Ooooh, this is right up my alley! Dresses: Look at David's Bridal, or a bridal shop that has regular sales. You can very often find fabulously beautiful dresses for $99. Bouquets: Consider alternatives to flowers....crystal bouquets, butterflies, etc. Or silk flowers, and make them yourself. Unity Candles: Two tapers, and One pillar candle, what ever color you want. Get a package of fancy gold or silver stickers at some place like Hobby Lobby. See picture below. Some one already said do the invitations yourself. If you have anymore questions, I have a website listed on my profile. You can contact me from there, if you like.

• United States
2 Oct 08
Those are all great ideas. It would be a lot easier if my daughter was here but she is in the USAF stationed in Phoenix and I live in Tennessee. She is pretty much showing me what she wants by email and so we are filling in the blanks and trying to use her ideas along with our own. Your suggestions will be a big help. Thanks

• United States
6 Feb 09
I had forgotten I answered this.*L* Thanks for the BR*S* Has the wedding taken place, or are you still putting it together, and how is it/how did it go?

• United States
2 Oct 08
My friend is getting married next month, so I've heard some of the "new" things that are going on. One is having vinettes of milestones, for example, something to represent the first kiss, first date, where he proposed, that type of thing, at the reception. Also, she said that the brides were wearing color and the brides maids wearing whtie. I think I am too traditional for that. What kind of ideas are you looking for? Budget ideas, reception ideas? Having powerpoint/slideshows are very popular now adays.

• United States
2 Oct 08
Any ideas that would make the wedding more special are welcome. The newer things I am not aware of because I have been married for 23 year and in the 1980's most weddings were still relatively traditional. Anything budgetary will also be a big help. Thanks.

• United States
4 Oct 08
Congratulations! I bet you all are very exited. Just don't go overboard now and break the bank, lol. You can arrange a dream wedding on a small budget. http://www.associatedcontent.com/article/358966/ten_tips_to_a_cheaper_yet_glorious.html?cat=23

• Canada
4 Oct 08
When we were married, we had to go to a marriage commissioner, but my father hired a room for the wedding supper. We were not that rich, by the way and we had our reception and pictures taken at my brother-in-law's place out in the back yard. It was rather low keyed, so I cannot help you that much and the squares and appetizers were home made.