I'm NEVER getting my nails done again!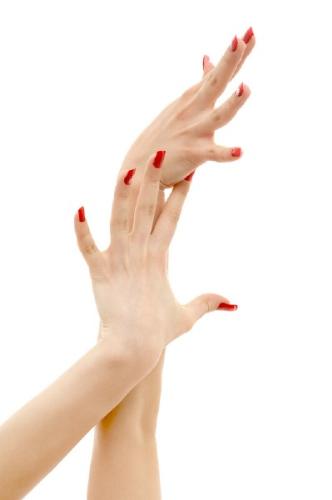 United States
October 2, 2008 5:35pm CST
Has anyone ever said this statement before? I know I have. (I don't mean getting your nails done as in a manicure, pedicure, or just getting them painted.) I'm never getting fake nails (acrylic, full set, etc.) again. I've had them done like this probably only three times in my life and regretted it each time. When I had the fake nails, it was hard to take out my contacts without scratching my eyeball. Ouch! It was awful. Also, when it came time for me to take them off because I got so tired of them, I either couldn't get them off or damaged my real nails in the process. Speaking of damage, getting the set totally killed my real nails because they became extremely weak. When the fake nails came off, they would rip at least one or two layers of my real nails with them. I know there's soaking and other various ways to remove the nails, but none of them really worked for me without somehow and some way damaging my real nails. Perhaps they have come out with better solutions and methods of getting nails done, but I'm still not convinced to get mine done again. (LOL) Please share your thoughts and experiences!
10 responses

• United States
2 Oct 08
I have never had the fake nails. My nails grow good on their own. They used to be longer and nicer then they are now. I spend so much time on the computer that they just don't grow as good as they used too. I wear contacts too, I used to keep my thumb and index fingernail shorter, just because of wearing contacts. Then I learned how to take them out with the side of my fingers, I still use the fingertips, just the side of them. Here is another way I have done it, this works too, it does take practice. Use your knuckles to take out your contacts. Its always nice seeing you, how have you been? Our summer has left us, Arggg. Soon winter will be here, yuck. Take care.


• United States
3 Oct 08
I ment to ask you, when is the wedding and also are your parents getting happy for you, and accepting of the situation better. Foryour wedding you can still have pretty nails, just have them a short to medium length. That way you can do whatever and they won't get in the way. Also try to take your contacts out with the side of your fingertips, its easy and does work.

• United States
28 Jan 09
Hi, Polly! Sorry for the extreme lapse in response. Cleary, I haven't been around for a while! The wedding plans are coming slowly, but surely. My parents allowed my fiance to join us at my parents' house for Christmas day as well as once a few days beforehand and a day or two afterwards - three times total - WOW! I thought we were finally making progress. However, unfortunately, they've turned again into thinking he's just not making the cut or "performing well" as I like to put it since he feels like he's under the microscope each time he visits there. He hasn't been allowed to go over to their house with me since. I've just stopped asking. I know it's their place, and they have a say who and what is allowed there, but I feel so childish having to ask each time, if you catch my drift. They'd rather have my dog there than my fiance! Silly...really. I'm planning on getting a nice French manicure, more than likely, for my wedding nails! I think it looks so nice. It's also a great excuse to get a pedicure! I've only had that done once (a pedicure), which was a couple years ago for my older sister's wedding. That is one of the nicest things. I've done my own pedicures, but it's just not the same as getting pampered! (LOL) Thanks so much for your comments as well as your concern. You're a wonderful friend. Take care!


• United States
3 Oct 08
I couldn't agree with you more! Nails are definitely an unnecessary expense for some people. A couple of ladies I work with are constantly getting their nails done. While they look really nice, if they don't go back in to get them filled, fixed, or whatever they do, they start to look really bad. On top of that, they probably can't grow a nice set of their own anymore because they've probably damaged their nail growth with all that glue! I don't see how people do it. You're right about one thing - they're VERY annoying. Ugh...my thinking is that I don't need anything else to become an obstacle. I already have enough in my life as it is! (LOL) Thanks for your input, Sheepie. I really like your response.

• United States
3 Oct 08
I can HONESTLY say I have never "DONE" my nails.

However, whenever my wife of girls want their nail done they come to me. I can put them on and very good at painting them. Now don't get the wrong idea because there are some straight men who can do nails very well. LOL!!!! I have 2 girls and they love it when I help them with their nails. I am a bit artsy so when I do their nail I am very particular about how they look. Even paint little designs on them. I have so much in common with my 2 boys, I needed to find something with I could do with the girls as they grow up. I'm not ashamed, I just love spending time with my kids.

• United States
28 Jan 09
Hi there! Thanks for your response. I don't think you have anything to be ashamed of. I have 4 sisters and 1 brother (6 kids total), and when we were all at home, I'm sure all of us girls, including my mom, would've LOVED to have our dad do our nails! I love your perspective on this subject because you see it as a unique opportunity to spend time with your kids and wife, and that is SO important! I'm also pleased to learn that you are quite the nail tech, or at least, I think that's what they call them nowadays. Thanks for sharing!

• United States
29 Jan 09
It has been forever since I talked to you. I pray things are going well with you. Thanks for the response. This has been quite some time ago.


• United States
28 Jan 09
You're right, they're absolutely beautiful! I agree with you completely. I've also seen girls popping them off like it's nothing...no pain or anything. However, for me, the benefits don't outweigh the disadvantages because the longer a person has fake nails, the weaker their natural nails become because it's almost like the fake nails try to take over the real ones, and then when the fake ones have to come off for one reason or another, they leave hardly anything left of the natural ones. I guess it all depends on what a person wants the outcome of their true nails to be. I don't see anything wrong with getting them every once in a while if you don't intend to keep up with them. I just find that for me fake nails make everything I do on a daily basis much harder! I don't like having something like that keep me from doing things I have to do each day or slowing down the process. It becomes frustrating to me, not to mention how much it costs nowadays. I can't disagree with you, though, that they are definitely pretty!

• United States
5 Oct 08
I've never had fake nails, but I remember my mom had had some fake nails. She vowed never to have them again when in the process of them coming off, they ripped layers of her real nails off, just like you experienced. She thought it would be a cool thing, but she kind of valueS what nature had already given her. LOL

• United States
28 Jan 09
I think any woman who has had fake nails and no longer has them has learned the hard lesson of appreciating their own natural nails! I've definitely been there. It is cool and very pretty to have a full set of fake nails done professionally. I think every woman wants to be pampered, but fake nails isn't the way to go, in my opinion! I'm sorry your mom had to learn the hard way as I did, but I'm glad it taught me to more appreciate what I have. Thanks for sharing!

• Philippines
3 Oct 08
I never like fake nails so i have not experience personally if it will cause much damage on my nails. I do clean my nails by myself since i have all the stuff needed for cleaning. I like it better that im the one cleaning it since i can be sure that all those nails that is starting to grow on the side of my toes is removed. I have experience getting my nails clean in a salon and i am not satisfied with there service. Since then i decided to clean my nails by myself.

• United States
28 Jan 09
I couldn't agree with you more. I've learned that the best way to have something done the way you want it is to do it yourself! I'm glad you've found what works best for you by cleaning and caring for your nails yourself. I do the same. Having professionals do my nails costs too much and takes too much time to maintain. Like you, I'm not satisfied with their service most of the time for what it costs to get all that done. I'm always please with my own work, and if by chance I wasn't, then I could start over again - that's the beauty of doing it myself! Fortunately for me and my family, I have a sister who is excellent at French manicures and pedicures. She does it completely free, of course, and does the best job I've ever seen! I can tell her exactly what I want, and she does it without a problem. She takes her time and does an excellent job! I'm so proud of her. I had a pedicure that she did for me that lasted at least three months before it started chipping. That's absolutely amazing seeing as I wore flip-flops, sandals, and was at the beach as often as I could be. That was a lot of abuse to my beautiful pedicure, and it still lasted that long! (LOL) Thanks for your response.

• Slovenia
3 Oct 08
Oh yes, i've been there lol I used to have fake nails, the problem is you need a lot of time to maintain them and thats something I never had. When i decided to take them off I did it myself, instead of going through with correct steps, I cut them off and when they wouldnt peel off I used force and it hurt, not to mention demaging my nail...I need a full year to grow them healthy again. I also had those that you dont glue to yours but you kindof just prolong yours, dont know how to explain this, but anyway those didnt ruin my nails and I was very happy with them, but still needed quite some time for maintance. Now I dont have them anymore, I take care of mine instead :)

• United States
28 Jan 09
I think maintaining natural nails is the best way to go. I understand what you meant about the ones that make your nails longer too. I think they just call them tips because you can put them on your actual nail, but it doesn't cover the whole nail. It's only used to make them look longer. You can paint over them and everything else. You're right - putting on tips is a lot less harmful to your nails. I'm sorry to learn of the damage to your real nails, though! I did the same thing, taking my fake set off myself. It costs at least $10 to soak them at the nail place to have them take those off for you. Everything with fake nails cost money as well as time, like you said. Since I haven neither, I'd much rather maintain and put time into my own. I enjoy it when I have time. When I don't, I think they still look pretty good. Speaking of nails, I think I might just paint mine today! Thanks for the inspiration. (LOL) Take care!

• United States
3 Oct 08
I've never had my nails done. I grow them long and take care of them. When they get too long, I cut them and let them grow back out again. Sorry you've had so much trouble and that I can't be of any more help.

• United States
28 Jan 09
That is no problem! I still appreciate your response, and am glad to know that you've never even had to deal with fake nails. Consider yourself lucky! I'm so fortunate that my nails have grown back stronger than ever...it just took time. While having to wait for my nails to grown back and be healthy again was frustrating, it just taught me a valuable lesson and made me appreciate what I have more now! I think fake sets are gorgeous, but the upkeep and money it costs to keep something like that going just isn't worth it, in my opinion. I'm glad you are able to have and enjoy your natural nails. Thanks, friend.

• United States
3 Oct 08
[i]Hi JJ, I always clean my nails every week but I am not applying anything since the more i will the weaker it will be...MY nails are not that strong for consistent manicure and I haven't tried about fake nails! When I was working, I will ask a friend who is expert to do it for me with a minimal cost but now, I will just brush it and then cut, then done! I want it to be very clean all the time but I love watching friends who can apply different colors every week, that is the thing I cannot do! LOL![/i]




• United States
28 Jan 09
I love all the colors! Some people are just so talented with painting nails using different designs and such. I appreciate your response because you've been there and done that, and now you've decided to keep your nails healthy and clean. That's so inspiring! I like how you've turned your focus from the fake nails to the beautiful things you can do and have done with all those colors. There really are no limits whatsoever. Thanks for your response!

• Lubbock, Texas
2 Oct 08
I have never had acrylic nails. It just never seemed healthy to me, and in recent years I've heard so many people say that after they went back to their natural nails, they were so damaged it took them a year to recover. I know they were all the rage, but I just could never see torturing my real nails to have "fake" ones. Even the tips are damaging to some extent.

• United States
7 Oct 08
Reading your response just makes the whole process sound so harmful and painful, which is true! I'm certainly glad you've never had to experience anything like that. It's a horrible feeling afterwards like something very dear to you just got taken away. I know that's probably a really weird analogy, but that's how I felt several years ago when I had tips and acryllic done years ago. They looked beautiful, but when it was time for them to go, a couple necessary layers of my real nails went with them! So sad...fortunately for me, I was young and my natural nails took only a couple months to grow back. I can grow really strong and white nails for myself. I figure if God gave them to me in the first place, I might as well use them, enjoy them, and not go spending money on something that's going to ruin the natural ones! I agree with you wholeheartedly, and thanks so much for your response!