Natural remedies for yeast in a dog's ears...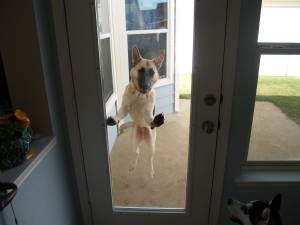 United States
October 3, 2008 2:07pm CST
I have a German Shepherd Dog who has chronic yeast infections in his ears. It's apparently not uncommon and he's been to the vet for it a couple of times now. I'm just tired of paying for the expensive medicines that we have to have refilled regularly, when I'm sure there have to be better options out there. I've been told to try swabbing his ears out with one part white vinegar to two parts water. I'm going to start doing that today, but I just thought I'd throw the question out there to the myLot community and see if anyone has had any luck with this or any other natural home remedy. Thanks!
1 response

• United States
8 Oct 08
Hi BunGirl. Sorry to see you haven't gotten any response to this problem. Have you tried the vinegar yet? The reason I ask is that my dog is constantly having problems with her ears also. I've gotten stuff from the vet and I've tried a product called dinovite which didn't help at all. She's constantly itching her ears and shaking her head. I feel bad for her but I don't know what to do. I can't afford to keep taking her to the vet and I was hoping there was an over the counter product I could use. Have you tried the vinegar and did it work? I hope we both get some relief for our poor dogs.

• United States
8 Oct 08
It's worked a bit, but it seems like it doesn't get it all because a couple of days later it's back again... It does seem to be giving him some relief though because he's not shaking his head like he was. What I've been doing is this: Soak cotton balls in 1 part vinegar, two parts water. Place a soaked ball in the ear as far in as it will go without really pushing on it or anything. Use another ball to swab out the rest of the ear. Kind of massage the dog's ear from the outside with the soaked ball still in there. Remove and repeat entire process with dry cotton balls, being sure to remove all moisture as any moisture left behind is food for yeast. Hope it helps!