Can you make a good Bolognese Sauce?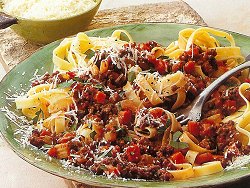 France
October 4, 2008 10:46pm CST
I would like to learn to do it and the only tip I remember from my Grandmother is that it's necessary to cook it for a long time, at least 2 hours... I tried to make it 1 or 2 times and it was a sort of tragedy so I wonder if you know how to make a good one?

4 responses

• Philippines
5 Oct 08
i wanted to learn cooking bolognese sauce too. maybe i'll be looking forward to learn from this discussion too. thanks for posting it and for bringing the topic. really a nice topic to discuss.


• Ireland
6 Oct 08
I doubt if I would ever have the patience to wait for two hours for a sauce to cook especially as it probably wouldn't be appreciated. I don't particularly like bolognaise sauce so whenever I am cooking spaghetti bolognaise for the family I just boil the spaggetti and pour a jar of bolognaise sauce over it. It probably tastes better than anything that I would attempt to cook myself...ha, ha.

• Singapore
5 Oct 08
I dun like to eat bolognese, because of the smell it has, and the taste of it, as it has got lots of minced meat in it.. haha =D I have prepared bolognese pasta b4, but it's all prepacked, and thus i dun know how to make it from scratch.. hehe

• France
7 Oct 08
Ah yeah, Prepacked bolognese sauce are really disgusting

• Singapore
5 Oct 08
I ate beef bolognese sauce last week. I like it very much. I do not how to make the sauce. But I would like to eat. You can check for some good recipe or ask the grandmother for exact amount of ingredeints required to make one. Best of luck!