Favorite Fall Pastime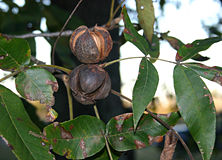 United States
October 5, 2008 1:28pm CST
Every year at about this time my thoughts invariably turn to the many things I so loved doing when I lived in Tennessee. One of my favorite activities was what we referred to as Hickory Nut Hunting. This was done by mostly all of the young people in my rural community. The trees would give up their gifts in abundance and we would gather them in whatever container we carried. Sometimes the husks were broken open almost completely, exposing the treasures within. There are many different varieties of hickory nuts and the most common in my area were the small ones. There were some much larger ones to be found if you knew just where to look although they were much more scarce. After removing the husks we would store ours in a cool place so that they could "season." We would usually gather about a bushel to last us for the winter. I spent many nights gathered around the fire with my aunt and uncle while he would crack them with the hammer and we then picked out the delicious fruit. Sometimes my aunt would take a bowlful into the kitchen and saute them in a little butter and lightly salt them. They were very tasty. Are hickory nuts common in the area where you live? Have you ever tasted them?
5 responses

• United States
5 Oct 08
Don't believe I have ever had hickory nuts. They aren't as common in Arkansas or California. My parents have a pecan tree in their front yard and every fall we have collected the pecans off the tree, to eat during the winter and make pecan pie with.

• United States
6 Oct 08
As I stated, Aurone, there are many species of the hickory nut and the pecan happens to be one of them. Pecans grew in my area but not in the immediate vicinity where I lived.

• United States
5 Oct 08
I don't know ifyou have posted a picture of the tree or the hickory nuts, but I am positive that is what I have in my backyard..But I was also told that the variety I have, the nuts are not good to eat, they are bitter... You make the edible ones sound very good, especially the way your Aunt would make them, YUM!!!

• United States
6 Oct 08
The photo is actually showing the nuts on the tree, carmelanirel, and if they are what you have in your backyard they are good to eat. If you are unsure maybe you could contact someone from a local university agricultural department to help you identify them. I think the fact that we had to allow them to "season" is important here. Some things just take time.




• United States
6 Oct 08
Yes, stephcjh, the countryside is always so beautiful! If I wasn't so old I think I'd pack up and head out to the country right now.


• United States
6 Oct 08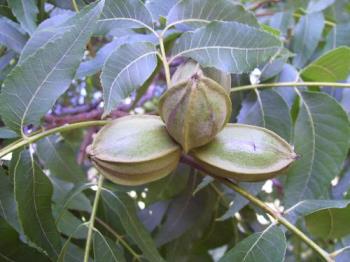 I remember picking them once at my grandparents, over forty years ago, but very little else. Thanks for the clear picture. We have a tree at our park that has something on it that resembles a pecan, but my dad says it is not. I was wondering if it was hickory, the old shells under it look like black walnut, but it is not. I will try to post a picture. This is the second time I have tried to respond. The ones at the park are still green, we went over and looked this evening, because of this discussion. i will continue checking. The husks do not split open, or at least have not yet.

• United States
6 Oct 08
I took a closer look at your great photo, GG, and I am familiar with it, however, I don't believe it is a hickory nut. Maybe someone else would know.



• United States
8 Oct 08
That's sounds like a good mixture of work and fun. My favorite fall pastime is watching hockey and the leaves change colors.It is one of my favorite times of the year now that I don't have to go to school.

• United States
8 Oct 08

Yes, sarah, it was great fun! I can almost feel the chill in the air as we'd hustle to see who could gather the most hickory nuts first.