Do Dryer balls really work?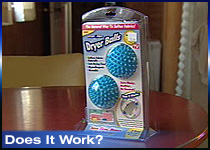 Canada
October 8, 2008 2:31am CST
]I was reading about ways to save energy and the enviroment. One girl said that you could use these dryer balls. You put them in your wash and they bounce around. Apparantly you don't need to use fabric softener and they decrease the drying time. I'm a little skeptical.

I found this article online saying that they work http://www.komonews.com/news/archive/4167746.html has anyone here tried them? or heard anything about them? Cause they are great... I wouldn't have to buy dryer sheets anymore and would cut down on the electricity used for the dryer.?????anyone? yay

or nay

5 responses

• Malaysia
8 Oct 08
looks promising. i would love to try one if it's available in my country. then again we don't have dryer. just a good spin in the machine and out into the sun maybe you should give it a shot if you don't mind having clothes not as soft as those chemically softened. save the energy and the environment. and for a few bucks you could use the balls for 2 years. if you don't like it switch back to dryer sheets and let your kids play with the balls (if you have small children)

• Canada
8 Oct 08

lol no doubt. Its definately worth a shot! I wish it was hot enough to dry our clothes outside here. At our old family home we had a clothes line... but it took forever to dry our clothing. It rains most of the year here. My mom would usually only hang the clothes out in summer. I don't have any small children.

But I have a cat who would love to play with them.


• Australia
22 Dec 08
This is an interesting discussion and I have learnt a few things from the various responses as well as your comments Monkeyrose. Someone gave my partner a couple of packets of these a couple of years ago and they have never been used. She was given them as a "thank you" after we donated some fruit to one of the small schools near were we live. We do not actually use the clothes dryer at all and nor do we really understand why anyone does here in Australia. That means the dryer balls are a bit of a waste us having them however I am sure that when my partner reads this, she will find a home for them. No it is not hot and sunny every day here but certainly the greater percentage of days are, so we hang the washing out on the clothes line and let it dry naturally. Even when it is raining and nothing is getting dry, we put all the wet clothes on the clothes horse which we then put in the lounge room - if we have the heater on that is. If not, then we hang them up in the packing shed where we have put an indoor emergency clothes line. If they are on the clothes horse inside the house, the clothes soon dry and best of all it costs nothing as the heater will already be on to warm up the house. Thanks very much for the information on how these dryer balls work and I am sure that someone will soon be the proud new owner of the unused still packaged ones we have.

• Canada
22 Dec 08
Thats very good that you hang your clothes out to dry. That really conserves energy! We used to have a clothes line when we were little. In the summer my mom would do this. Its very rainy here though... so this can be very inconvient and in the winter its unlikely to find a hot enough day without rain to do this. Glad I could share some useful information with someone.


• Australia
22 Dec 08
If you have indoor heating or cooling you can also se a clothes horse to dry the clothes on after they have been washed. Even hanging them on the clothes horse for a short while till the clothes are partially dry will save a lot of money on the clothes dryer. It might be something for you to think about Monkeyrose because it certainly works for us. Yes we are lucky to be able to dry our clothes in the sun and on the line and I am sure that because of that, our electricity bills are a lot cheaper than they would otherwise be.

• Canada
22 Dec 08
I'm terrible with hand drying clothing. For some reason ... whenever I try to do it the clothes end of smelling. Is there any way to avoid this?


• United States
21 Dec 08
I've been using the Dryer Balls for several months now. I have not bought any fabric softener at all. They work good. But of course the clothes don't smell like fabric softener. I would say they are a good choice if you are looking to save money, and stay away from artificial ingredients/chemicals etc.

• Canada
22 Dec 08
Thanks for your comment. I have also been using them for a while and they work really well. I find them really loud though. Do you find them really loud in your dryer?

• United States
22 Dec 08
Haha, Yea, they are loud! I usually have a lot of stuff in the dryer and it's not as loud as when there is a small load drying.

• Canada
22 Dec 08
Thanks for the tip! My dryer has a way larger capacity than my washer. Maybe I'll wash a couple loads and then dry them.

• United States
22 Dec 08

I bought some for my Mom. She thought they were great at first. Then the weather turned cold & she found they didn't cut down on the static electricity like dryer sheets do. They make a lot of noise while the dryer is running. And it appears that they break down the fabric much faster than dryer shets. Items are suddenly developing small tears.



• Canada
22 Dec 08
We've just noticed they don't cut down static electricty in winter. We've had a cold spot for the past week and my mom just mentioned that they don't get rid of the static. Oh well.. we can just use them in summer.


• Canada
22 Dec 08
Me too!


I always watch those infomercials and wonder if things work. I love gadgets and gizmos. The problem is that most of them don't work. Thanks for the response.!