Half/Full, Do You Still Wear A Slip?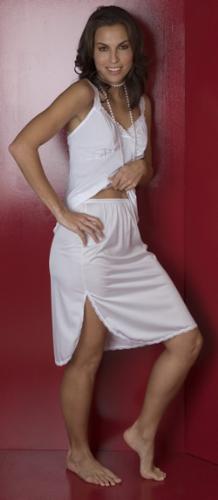 United States
October 9, 2008 8:01pm CST
I remember when I was growing up
slips
were mandatory, if you had on a dress you would have to have a
slip
(undergarment) on. I was very small and petite (short) sometime my slips would hang from under my dress

, I didn't have any hips so half slips were out of the question. Now in this day and age slips have become obsolete. Ladies do you still wear slips?

Half/full.
6 responses

• United States
10 Oct 08
no, i don't. don't ever wear a dress. would look funny w/my pants. lol

• United States
10 Oct 08
Hey chevee! Wow I still have some half slips too! I should throw them away don't you think? I will never wear them again! The don't even make them anymore do they? I know the have cami's, but no slips! How about that! I hated wearing them because mine used to slide down too and were always showing under my skirts or dresses and I was always picking them up! What a pain! Well since I hardly ever even wear suits or dresses anymore I guess I don't need them. It's funny how they suddenly just stopped making them and I didn't even realize it until you brought it up. Seems like you just take so many things forgranted even when they do away with things!

•
10 Oct 08
I can remember having to wear them too, i can also remember my mum having loads and loads of them in her drawers to go with all sorts of different lengths of dresses! To be honest i can't imagine wearing one now, surely they just get in the way - i can't really remember!! lol I wouldn't know where to buy one, but i know that when i have been working in nursing homes, the old lasdies often wear them underneath their dresses so i think it is just something that isn't in fashion anymore! xxx

• Malaysia
10 Oct 08
Hi Chevee, I don't wear slips nowadays - I usually wear pants; and the skirts and dresses I have, are non-transparent, so it's okay without slips.

• United States
10 Oct 08
[i]Hi Chevee, I have tried using my Mom's slips when I was in my first year College and have to wear dress! But, now no more! LOL![/i]




•
10 Oct 08
Hi Chevee, Years ago when I was working in London and going to work one morning, I came out of the train station and my slip fell down my ankle, eve since then I would not wear a slip. Now days I live in my jeans and if I was going somewhere special I'll wear a black trouser. Love & Hugs. Tamara