Tomorrow is the big Day!

United States
October 9, 2008 9:38pm CST
The rehearsal for the wedding went very good. We all have a pretty good idea of what were supposed to do. and When we are supposed to do it! Then the whole Wedding Party went to a Italian Restaurant! It was very nice. David got Alaina a very nice watch as a wedding gift to her from him! Will I make it? I am so happy for him! I hope that I do not cry!
6 responses

• Canada
12 Oct 08
So I guess they are both married now. So how did it go? Did it go off without a hitch or do we expect to see you as a guest on Judge Judy or Judge Joe Brown or the People's Court. (just kidding.)

You probably bawled your head off. So congratulations and let us know where they went to on the honeymoon.


• United States
12 Oct 08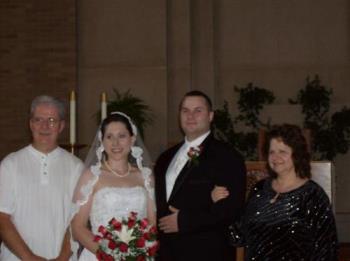 My sister and her husband and the newly weds!

• United States
12 Oct 08
I did really well, I got chocked up twice and really cried just once!

• United States
10 Oct 08
Don't forget to update on the wedding..:) And don't worry if you cry, I did though I hated the fact that I did, some Moms are going to cry..

• United States
12 Oct 08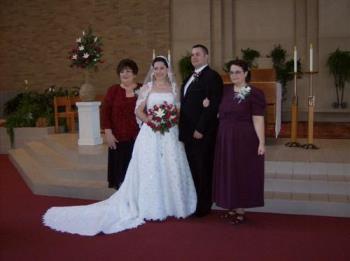 I made it through it all! Here is a picture! Her mom, Alaina-Marie, David and me

• United States
12 Oct 08

What a beautiful bride and you look great, you don't look nervous at all..Glad it all worked out..

• United States
10 Oct 08
Hi louise! You are allowed to cry! You are the mother of the groom! It's ok if you cry cause your happy! Tomorrow is my birthday! So it will be a nice day for a wedding too! He picked a real nice date to have for a wedding date. I have always liked it for a birthday! I hope you have a wonderful time at the wedding. I know you and Carl will have a wonderful time watching David get married and then having you new daughter! Have the best time and enjoy ever last minute and then come back and tell us all about it!

• United States
10 Oct 08
I am not sure that I could stop myself from telling my friends here all about it! You want all the details even that bad ones,, and things going haywire too??LOL

• United States
12 Oct 08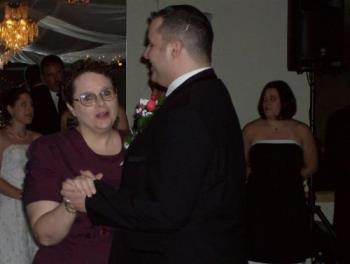 • United States
10 Oct 08
Oh, you'll cry alright...lol. I didn't think I would when my sister got married, but I did, you can't help it...women are emotional anyway. I hope it all turns out wonderful for your family.

• United States
12 Oct 08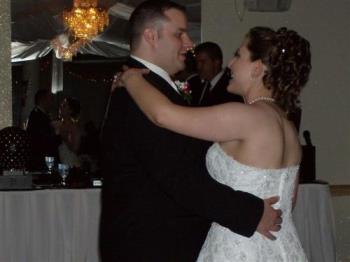 Don't they look so Happy!

• Canada
10 Oct 08
keep us posted hon, we are all anxious to hear about it.

• United States
12 Oct 08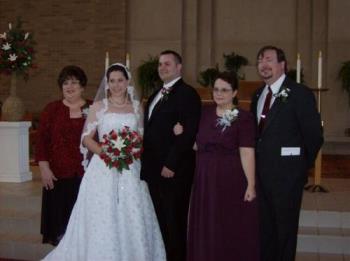 He mom, Alaina-Marie, David, me and Carl

• United States
16 Oct 08
The reception was where she really got hit by the leaky eyes. the mother son dance ws unexpected and more than she could take without tears. She got choked up a bit on the dance floor later while watching them as well. The DJ tried a couple songs to "remind" the old married folks of thier wedding. I guess it worked ok but I mostly remembered that we didn't dance at our reception.(one of those baptist traditions I don't much agree with but got stuck with having the reception in a church fellowship hall). Strangely enough the pastor didn't agree with it either but , having allowed dancing at one other reception he didn't want to go through the fight with the deacons again. At least we can dance at other peoples weddings. And we're dressed more comfortably(though the tinnis shoes under the wedding dress wasone of alaina's more inspired ideas.

• United States
16 Oct 08
Well I am like Alaina-Marie in that aspect I like to be comfortable! So now she does not have sore feet to walk all over Virginia for the Honeymoon!