Sad news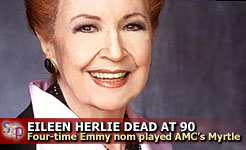 United States
October 10, 2008 12:09pm CST
Four-time Daytime Emmy nominee Eileen Herlie has died. The actress, known to daytime viewers, as All My Children's Myrtle Fargate died from complications from pneumonia. In addition to her work on AMC, Herlie appeared in numerous motion pictures and earned a Tony nomination for her work on Broadway. Herlie was 90. The full story can be found at: http://www.soapcentral.com/amc/news/2008/1009-herlie.php It will seem strange in Pine Valley without her gentle guiding hand, as infrequently as she has been seen in recent times. She was still a presence to be felt.
3 responses

• United States
13 Oct 08
i just saw on the news.. i wonder if they will have anything on the show about her? i doubt it.. wasnt like she was on much anymore


• United States
10 Oct 08
I loved that character - Myrtle. Her and Phoebe went at it years ago and that was so much fun!!! She was one of the last of the good ones. I never did care for Erica - and she is the last of the originals, but Myrtle and Phobe and her fellow "circus friends" what was the guys name - eventualy married Phobe - he was Myrtles cirus friends/. Sorry to see her go.

• United States
19 Oct 08
I hadn't heard this! It's so terribly sad. I will miss her on the show. It explains why they haven't been showing her...surprised they didn't have something to honor her memory yet, will probably wait until after the new storyline...maybe "Myrtle" will be one of the victims from the tornado. Very sad, I really liked her on the show.