3-Day Walk - Day 1

United States
October 11, 2008 11:10pm CST
Last weekend - October 3-5 - was the weekend that the Susan G Komen 3-Day Walk took place in Washington DC. This was my first time participating in this kind of event and I must admit, I had a wonderful time. The purpose of the event was to raise $2,200 per walker for B R E A S T Cancer. I've raised all my money, I still have a few people who want to donate, which is ok because the fundraising stays open for a few weeks after the event. If you'd like to learn more about it all, I have a link on my profile that will get you there. Day 1 started early (but not bright) for me at around 3:30am. I had to get up early to be at the starting point by 6:30am - it was about a hour and a half ride there, I had to pick up another person - my tentmate - and we wanted to allow for traffic. We arrived around 6:00am and waited for the walk to begin at 8:00am. We were about the last people out of the gate and left around 9:00am. Most of the day was a smooth walk, through mostly business districts, but also some residential and some highway. I've attached a card that shows how far each pit stop, grab n go, lunch and the final camp were. There's a small typo on the card, the final miles was 20 miles for the day, not 10! Each grab n go had water, snacks and port-a-potties for us. The pit stops also had Medical personell to care for any injuries or wounds. The lunch stop had "entertainment" which consisted of volunteers dressing up and acting goofy as well as some great music. Many of the traffic volunteers were playing their music loud too which really kept us motivated. Some of the walkers had ipods with speakers attached so that they could listen while they walked - I'm getting the speakers for mine! I walked most of this day with my tentmate, who walks slower than I normally do, so I didn't finish and get to camp until close to 4:30pm. Right before the last grab n go, we came around a bend and saw this line of pink marching up this BIG hill. I had to leave my tentmate at the bottom of the hill because if I went up it slow I'd probably hurt myself. I climbed that hill pretty quickly and got to camp, set up our tent, and got my gear together by the time my tentmate made it in. After eating, showering and checking out the campsite, I was ready for bed around 8:00pm - an hour before lights out. My feet were hurting, but that was about it. I was out by 8:30pm. All in all, it was a great day. We saw some wonderful scenery, I met some awesome people, and I got a great sense of doing something for a great reason. Before I called it a night, I signed up for next year's walk!
2 responses


• United States
12 Oct 08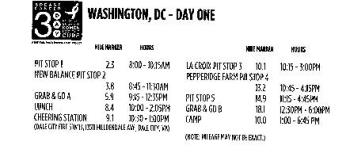 It sure wasn't what I expected it! Yeah, I realized the card didn't show up AFTER I posted it - here it is:)

• United States
13 Oct 08
Sounds like quite a day, reinydawn. Thank you for sharing it with us. And thank you for all you have been through for such a worthy cause. I saw that you have of discussions about the walk. Looking forward to reading them.

• United States
13 Oct 08
I really enjoyed it and I've already signed up for next year! I'll be chronicalling my progress until next October!