Day 2 of 3-Day Walk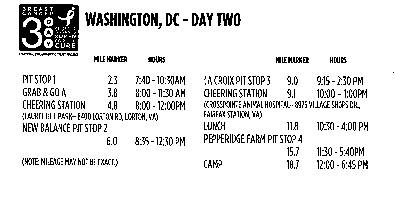 United States
October 11, 2008 11:35pm CST
After walking over 20 miles (of my 60 mile charity walk to raise money for Susan G Komen for the Cure) the first day, I figured I was ready for another day of walking. The mileage cards only tracked our miles on the routes, but there are additional miles we walked each day inside the camp area. We walked from the sleeping tents to the dining tents, also to the portable showers and there was also an area set aside for us to relax in. They figured it was usually another 2 miles we walked each night and morning in the camp area. Although the temperature last weekend was in the mid-70's during the day, it dropped to the low 50's at night. It was pretty difficult to get out of the not-so-cold tent at 5:30am, knowing it was very cold outside. But once we got moving, things started to warm up. We were on the road by 8:00am after a hearty breakfast. Beacause my tentmate walked slower than I like to during the first day, and she had some blisters on her feet, we decided to split up for the day and meet up at camp afterwards. I started out the morning walking with an older woman who was actually from the area - she thought we might be walking by her house! We did walk around the old Lorton Prison which she was able to give me some history on - both old and new. At the first pit stop, she needed a break and I kept going. I hooked up with another woman who walked about my pace and we spent the rest of the day together. Most of this day was through residential areas and along the highway, although we started out and ended up walking through the woods. I finished this day much earlier than the first - around 2:00pm. I took an early shower and a quick nap. My tentmate accidentally woke me up when she got back to the camp, but I was getting hungry by then. After dinner we stayed around for the nightly entertainment and were pleased to see that the founder of the Susan G Komen Foundation was a guest speaker that night. It was very inspiring to hear her story about her sister - Susan G Komen - and also the stories of other fellow walkers. I was still in bed early - by 8:30pm - but this night my feet didn't hurt as they had the night before. Well, they might have hurt, but I was so tired that I may not have noticed.
1 response

• United States
12 Oct 08
I imagine it was really interesting walking with someone from the area to tell you some details about things. If I recall before you went on your walk that the second day was the longest walk so that is great that you made it back to camp ground so much earlier, guess the slower walker did slow you down a bunch the first day.

• United States
12 Oct 08
I'm a pretty fast walker, and I didn't realize that walking slow that first day made a big difference, but I'm sure that's the main reason my knee hurt me so bad the last day. But I did have a great time!