Day 3 of my 3-Day walk for charity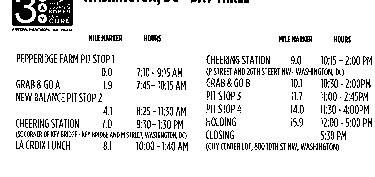 United States
October 12, 2008 12:01am CST
After having walked over 20 miles the first day and over 19 the second day, I think we were all ready to get going on the last (short) leg of our journey - a mere 16 miles. Along with the miles on the routes, we walked additional miles in our camp, totalling around 60 miles in 3 days to raise money for Susan G Komen for the Cure. Although it seemed like it was even colder that last morning than the others, I knew I had to get out of "bed" early to get everything packed up. I stumbled out of bed close to 5:00am, got some breakfast, then came back to get things cleared out before heading out for the day. After taking the tent down and stowing my gear on the trucks, I boarded a bus to the beginning of our final miles. We did a little sight-seeing (wether intentional or not we aren't sure) and drove by TC Williams High School from Remember the Titans. It was probably close to 8:00am when we finally got to walking. I met many people this day, the first few shortly after we started. The first leg of our journey was nice and easy, smooth walking. Then we noticed some chalkmarks on the sidewalk commenting on our nice "flat" walk so far. Little did we know we were headed for another hill - a STEEP hill. At the bottom, I commented to some of the other walkers that I was going up fast or I wasn't going to make it. I climbed the hill at a fast pace, mostly walking in the grass, passing quite a few of the other walkers. I had a line of about 5 other people walking behind me, keeping my pace. At the top, I kept going and ended up walking with the girls that had the tents across from us. We had talked with them a bit the night before and had a great time. I enjoyed walking with them, but at the grab n go I got seperated from them and walked alone for a while. Walking over the Key Bridge into Washington DC, I pretty much stayed with a few other people and chatted a bit with them. At one of my stops, I hooked up with a young girl, then at another stop fell in step with another girl. At the last stop I ran into the same woman I had walked with most of the previous day and we finished out the walk together. Up until the last 6 miles, I was feeling pretty good. After lunch that last day, my knee was giving me a pretty big fit. My husband was at one of the cheering stations and gave me some ibuprohin, which might have helped a little bit, but I was hurting too much to really tell. The hardest part was walking in the middle of Washington DC because of the traffic. We were constantly stopping, every couple blocks, for traffic. We breezed in front of the White House, across the street from the Capital building and also through Dupont Circle. Because I grew up around here, these were not new sights for me, but many of the walkers were from other states and they stopped to take in the sites. I just kept on going, just wanting to finish! I crossed the finish line at about 1:30pm and headed straight for the medical tent to get some ice for my knee! It was about 3 hours before the closing ceremonies, so when I found my husband and tentmate, we went to relax, get a bite to eat and a margarita! I can't wait to do this again next year!!!
3 responses

• United States
14 Oct 08
Great job! I hope your knee will be fine. I am so proud of you. My weekend was spent canning tomato soup for my sister. My husband got the last of the tomatoes in the field that he could get because the farmer will be plowing them up. I have a boat load of tomatoes to cook down and can this week. I will be cooking some down today. Great job good luck going next year, keep up the good work.

• United States
16 Oct 08
I'll be keeping you all updated when I "start" next years campaign! I'll be starting my fundraising next month - I want to get a head start on it this year! It only took a day or two for my knee to stop yelling at me. Once I get some of this weight off me it wont bother me as much.

• United States
13 Oct 08
You earned that margarita, girl!! I'll bet the closing ceremonies were rather emotional. I hope your knee has healed by now. Yay, reinydawn!!!!!!! Thank your for sharing these stories with us, along with the pictures.

• United States
13 Oct 08
You're quite welcome! It was a very enjoyable experience, even if I hadn't had the margarita :) Once I loose about 30 pounds my knees will not give me a fit, but I've gained so much weight lately... I'll get it off for next year, I don't want to have to feel that pain again!

• United States
12 Oct 08
What an experience it all must have been. I have said it before and I will say it again, Thank You for doing this walk. Hopefully one day there will be a cure. Sorry your knee give you a bad time on your last few miles. Thank you also for sharing this walk with us.

• United States
12 Oct 08
You are so very welcome! I am very glad that I signed up to do this, it was a wonderful experience that I look forward to sharing with my husband next year. I'm hoping that I can loose some of this weight and my knee wont give me such a fit next time...