German Sherpards: Should I get one or not?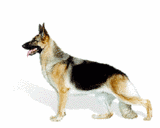 United States
November 6, 2006 7:40pm CST
My husband has been offered a full blooded german shepard and I'd like to hear from others on any experiences with this breed. I do have two children and tons of cats outside. He says that she is very gentle natured. What do you think?
2 responses

• United States
7 Nov 06
Is this dog a puppy or full grown. If the dog is full grown, and has not been raised around childern then I would say No dont get him. If the dog is still a puppy and has time to get use to the family then when they grow up they would be a good protector of the family. Dogs can turn he might be gentle natured around his current owner, but when entering your home he might not be as good natured

• United States
7 Nov 06
Exactly, that was my point to my husband. He said the woman who owns her now has many children and that the dog is wonderful with the kids and cats. However, I do agree that a different environment could make the dog feel defensive. I don't know. Just makes me nervous! Oh and she's full grown. Thanks.

• United States
7 Nov 06
those dogs are very viscious to me, I'd say no