Your coffee shop.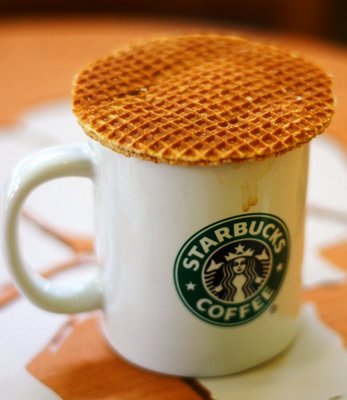 Philippines
October 13, 2008 11:38pm CST
Are you a coffee lover? What is you favorite coffee shop? Do you hang out with your friends there? What's your favorite coffee flavored drink? All around the world, coffee has been very popular even to teenagers nowadays. There are also thousands of different flavors concocted to meet the taste expectations of different personalities.
6 responses


• Philippines
20 Oct 08
That's the beauty of discussing here at mylot. We have the freedom to express anything here and even naming brands is allowed. Anyway, welcome to mylot and happy posting. Just enjoy yourself around mylot. As I am also new, I enjoyed joining and posting new discussions because somehow, I can learn a thing or two. Thanks so much for the response. Have a great day!

• Canada
21 Oct 08
My favorite coffee shop is called Bean Town and it is in Boston where I was studying music. We all used to go there after classes and have a cup of bean. The girls loved all the flavored coffee and the guys went for the cappacino and the espresso. Then we would all go to the pool hall and shoot some pocket pool. We really got a buzz from that bean and let me tell you the espresso really had us buzzing. See you later. Crocket.

• Philippines
22 Oct 08
Coffee shop is a real good business to have. As an owner, you feel that your customers would come because they feel at home and relaxed especially if the place is cozy. College students love to hang out and release all their tensions like your group. This is really my dream business. To have a coffee shop that also provides an area where people can have themselves scheduled to perform. They perform any craft that they posses and I will provide them the audience.

• Philippines
20 Oct 08
I love Seatlle's Best 's Javanilla! I think they mix it with mocha iced cream which makes it sooooooo yummy and flavorful!

• Philippines
20 Oct 08
Wow! I think that really tastes good. Though I think it's fattening, sometimes it's nice to spoil ourselves and maybe consider it as a reward for doing some work or even an accomplishment. Thanks for the post and have a wonderful time here in mylot. Have a great and wonderful day!

• Boise, Idaho
19 Oct 08
Yes, I am a coffee lover. Maxi Javi is my coffee of chose. Yes, my teenager loves the stuff. I hate Starbucks. Like drinking bitters. Cannot understand why it is so porpular. I like carmel, hazelnut, and real cream.

• Philippines
20 Oct 08
Sweet coffee lovers statistically rules. Effects on sugar really triggers our minds to be happy. That is why a lot of candies, chocolates and more sweet stuffs are being sold out in the market. Eating something sweet sometimes relaxes and gives you the idea of being young again because almost all kids love sweet things. And as you indulge yourself to a sweet stuff, you are reminded of your younger days when you really crave for sweet stuffs which suffices pleasure in your mind. It's great to be young again, right? Thanks for the response and have a wonderful day!

• United States
14 Oct 08
I rarely drink coffee. But when I do it's usually a french vanilla cappicino from a gas station loaded up w/ creamer and sugar :)

• Philippines
20 Oct 08
Some people would rarely drink coffee just for the reason of waking them up. But did you know that I also know people who drink coffee before going to be because they feel that they will have a nice sleep then? I think this is weird because for me, I consider coffee as an upper. Coffee really wakes me up especially brewed! my oh my! This will really keep me going for hours. I couldn't even sleep when I take this in the afternoon.