Do You Remember To Change Your Furnace Air Filters?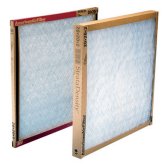 United States
October 14, 2008 12:55pm CST
How often do you change the filters in your furnace? I know you are suppose to change them every 2-3 months but I forget. My daughter changes hers periodically so does my father, but me I just don't I did change it this time when I was suppose to. Now I am out of extra filters and I just can't remember to get any when I go to Wal-Mart I need to write a note. The size I use is 20X20X1. Since I started this discussion I went and checked and yes it need changing now. I am going to write my note now. Before it gets cold enough to turn the heat on. How often do you change your furnace filter? Do you know the size of your furnace filter?
6 responses

• United States
14 Oct 08
i change them often. probably more often than i need to. i think your unit depends on you doing that. i sure don't want to buy a new new. yes, i know the sizze. if i don't make a list i'd be up the creek.lol

• United States
14 Oct 08
I am the same in my old age now. I have to write things down least I forget as soon as I get there. HAPPY POSTINGS FROM GRANDPA BOB !!~

• United States
14 Oct 08
I change moine once a month during the heating season. Mine are 20x20x1 My heater has kicked in a few times already as well. HAPPY POSTINGS FROM GRANDPA BOB !!~

• Marion, Kansas
16 Oct 08
Around here they say for maximum efficiency change it once a month. It does not happen. I use a 25x16x1, I think. I would have to go to the basement to check it out though.

• United States
15 Oct 08
We have a schedule set to do ours. We do ours on the first day of each month at the same time we give our dogs their heart guard. We have it marked on the calendar to do these tasks at the same time, so it is easier to remember to change the filters, because we always remember to gives the dogs their stuff, and we mark it on the calendar with the stickers they give you with the heart guard, so we see the note on the calendar to change the filters as well...

•
15 Oct 08
Hi Chevee, We don't have anything like that here, we just have central heating and its all done by Gas companies. Love and Hugs. Tamara