Tattoos....?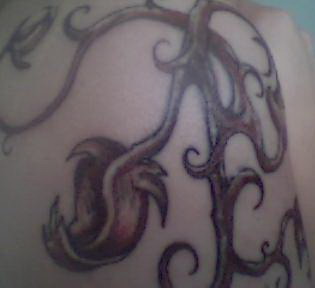 Romania
October 14, 2008 6:17pm CST
I have 3..and don't regret it.Do you have any?Why did you chose that one?Would you let your children have a tattoo?Why do you think that society still classifies a person who's got a lousy tattoo, as 'not worthy'? The one in the imagine is mine..but still unfinished.It's an Ivy..After I've chosen it,I did a little research about this plant and find out that it symbolizes tradition,true love,undying affection,sensuality,the flourishing of hidden desires,enjoyment of secrets or forbidden pleasures. It was also associated with Osiris and the greco-roman god Attis,both whom where resurrected from the dead,therefore Ivy also symbolizes eternal life and resurrection. After reading all that,i definitely have no regrets regarding what I've chosen to carry all my life.
6 responses


• United States
18 Oct 08
That is beautiful i have 5 i love tattoos planning on getting another in a couple of weeks in honor of a very special friend who more than they know but i love yours and yes i know that pain.

• United States
19 Oct 08
Well thank you very much yes it is true you can have to many i dont think women whould be covered in them i think it takes away the from the beauty of the tats,i have mine placed where they dont run togeter but the one you just got is beautiful,and it is in very good taste.


• New York, New York
18 Oct 08
I love the tattoo, I especially love your color choice, the color is not too overpowering where it takes away from the beauty of the Ivy, it is just the right amount to compliment it. Nice choice and nice work.

• Philippines
15 Oct 08
I dont have anything against tattoos and people with tattoos. I think they're a form of self expression. I actually want to get one but the problem is i dont like to experience pain. If ever i'll get a tattoo, i want a cherub or an angel on my nape. He will protect me always wherever i go. I think some people still look at people with tattoos quite differently but more and more people are becoming open to the idea that tattoos are great.