Less SPAM???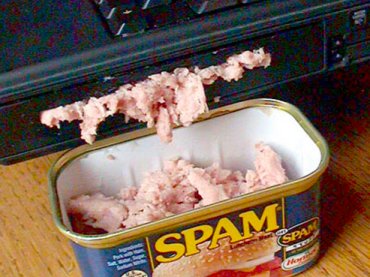 United States
October 15, 2008 8:14am CST
http://gizmodo.com/5063511/giant-international-spam-ring-busted-your-inbox-still-filled-with-viagra-ads One of the largest SPAM rings in the world was busted overnight. They are bragging how we will be receiving LESS SPAM in our emails. Yet they have only stopped 0.7%. I hope that is a typo & it is really 7% & NOT .7%. 7% will barely touch the SPAM I receive. Do you receive a lot of SPAM??? Are you noticing any less SPAM today???
9 responses

• United States
18 Oct 08
heehee, When I first read your title I thought of SPAM the canned meat and thought if you want less SPAM just stop buying it.

• United States
18 Oct 08

You'll find a lot of things in my house, but SPAM is
NOT
one of them!!! I stopped buying SPAM before I even started cooking!!!!!!



•
15 Oct 08
Hi LadyMarissa, I am spam free, I don't seem to get any spam mail in my in box, thank goodness. Tamara

• United States
16 Oct 08
OMG you are soooo lucky!!!
How do you do it???




• United States
15 Oct 08
I think I get my fair share of SPAM -- and none less today. Besides, as you said, 0.7 % isn't much of an impact, but I guess little by little if we can knock out the spammers that would be great. Like others mentioned, many times the unsubscribe link is either not there or doesn't work. Oh well! DELETE THE SPAM!

• United States
15 Oct 08
I find it frustrating that they close down the LARGEST operation & I only lose 2 maybe 3 messages. I'm finding it hard to wrap my head around that idea!!! I can't seem to delete it fast enough. Fortunately Yahoo has an
empty folder
button!!!




• Australia
15 Oct 08
I think that if people had any idea of the amount of email spam that gets sent around the world every day they would be stunned! I can assure you that it more than likely IS 0.7% and not much more than that; yet this would equate to tens of millions of emails! I read not so long ago that ober 97% of emails a person receives are unsolicited!

It's all a number game and it is such a cheap medium they won't be slowing down anytime soon! I personally haven't noticed any major reductions in spam today yet.

• United States
15 Oct 08
My worst account receives about 300/day. At .7% that will only decrease by 2 emails a day. That is
SADDDD!!!




• United States
15 Oct 08
Well, it says. "Even though their assets have been frozen, anti spam researchers doubted that spam volumes would decrease. Spam now accounts for 90% of all email on the internet, and even if these servers have stopped sending, a new network is undoubtedly already prepping to spring up and take its place." I stopped having spam stopped as I also had legitimate mail ending up in my spam folder and I was missing important stuff, so I wound up having to open my spam folder anyway. I just hit "spam" as I go along. I do report a lot of it to spam
@uce
.gov. That is where they want you to forward spam mail so they can investigate. The ones that make me laugh are the letters from lawyers, the winning lotteries, or we will send you ten million dollars and then after it is deposited, you send back most of it, minus your cut. Like how stupid is anyone who believes that? I still have just as much spam, so I do not think it made much difference.

• United States
15 Oct 08
One thing I did to get around SPAM is I set up folders for my important mail in the name of the sender. Then I only had to watch for their first email & I set up a rule for their mail to go into their folder.Now I just look down the folders under the Inbox. When one highlights, I check it for new mail. Once I've read the mail in it, the highlight goes off until the next email comes in. Now between my SPAM folder & my Inbox, I catch most SPAM & my Rules folders seem to get most of my important emails. Every now & then, one makes it through but not often. Each evenin I usually glance down my SPAM folder for for stray pieces

• United States
15 Oct 08
That is great and wish they could stop all spammers. My internet provider catches most of my spam mail and puts it in a spam folder. Ever so often a little gets past them but only about 2 a week. I empty my spam folder each day and I always check it first before deleteing it because a good piece of mail might get in it ever so often. I don't really get a lot of spam mail in my spam folder.

• United States
15 Oct 08
You are wise & seem to have it under control!!!




• United States
16 Oct 08
ahh i hate spam and SPAM lol i get like 50 spam in my spam folder every day i hate it!!these are the ones i see alot meet free singles discount cars and a whole *beep* load of more if i dont delete my spam at least 1 every 2 days i have to delete almost every email manualy until it gets to 100 spam cuz it cant load all of them wen will it END!!

• United States
16 Oct 08
It seems it will NEVER end!!!




• Defiance, Ohio
19 Oct 08
Oh I hope you are right and they got a major spammer. If they did. That is awesome to hear. I do get a lot of spam. But I fill out forms to try and get free samples. I have a seperate email account from my main one. Just for that. When are we suppose to notice less spam? I haven't seen any less. Maybe they haven't caught the ones who spam me yet.

•
21 Nov 08
Hi LadyM I have been receiving a lot of spam recently and it does annoy me..if something can be stopped getting this then I'm all for it and if not I hope someone is able to stop it somehow...littleowl