Do you like to go to the beach?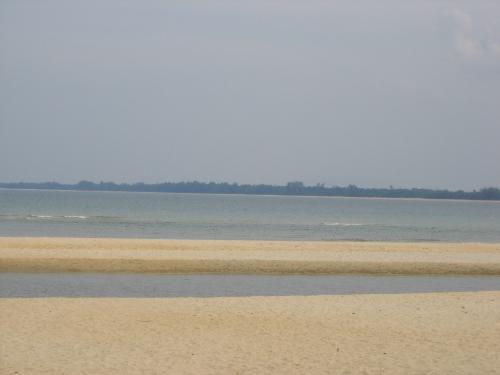 Malaysia
October 16, 2008 1:03am CST
The beach is always my favorite place. I enjoy the seabreeze, the smooth powder liked sand, the crystal clear water. I could spend few hours there just relax and doing nothing. Get a chair under a tree, put on sunblock and that's it. It has the natural heeling power there to comfort my tiring soul and body. Hope more and more people will enjoy going there and help to keep it clean.
8 responses

• Philippines
16 Oct 08
Oh yes! Playing in the sand and in the cool crystal clear waters of the sea makes my day. I love to go to beach resorts and even beaches that have not been ''discovered''. I agree with you that the beach gives a relaxing feeling... hmmm. What's your favorite beach? have you been to the beaches in the Philippines? it is nice here.

• Philippines
16 Oct 08
i grew up along the beach and i love it very much. when i was a kid,my friends and i spent summers on the beach, played hide and seek to the deep waters. and every time i am sad and very stressed, i only went to the beach, sat on the sand, breathed deeply and viewed the never ending horizons. it always calmed me, i was able to think a lot and picked up my broken self, it has always been my friend whom i could confide all my problems. i miss the beach so much. i hope the people will be caring enough to clean it, and not throw garbage and stop dynamite fishing.

• United States
20 Oct 08
No I don't although the ocean is pretty and I am all for protecting it power wheelchairs don't mix with sand. I get stuck and need someone to pull me out. Not fun!


• Philippines
17 Oct 08
When you do travels for short vacations, it would always be good to visit a beach resort... it's something fun to do especially during summer season... I love the beach....

• United Kingdom
16 Oct 08
I always feel happy when I see the ocean and feel a sort sea breeze. I love white sand beaches with palm trees in the tropics most of all. In my home country we have yellow sandy beaches and pebbly beaches. I live just ten minutes from my local town beach and it has a pier and two off shore islands. I also like to go to a rural beach a bit nearer my home. There I take my two dogs for a run across the sand. The most lovely beaches I have seen are in the Seychelles and Samoa. Wow!

• United States
16 Oct 08
I love the beach, but I live in las vegas and all we have is Lake Mead. I don't have a car so I hardly ever get to go there either.


• Malaysia
16 Oct 08
I enjoy the breeze, the sea water, the sound of waves, the seashells, the people playing on the beach, the sand castles, the coconut tree........basically everything about beaches. :) I have fond memories of beaches and it's been a while since I last visited one. Maybe it's time for me to plan for a trip.