I thought that I would share my results of my first needle felting attempts

United States
October 17, 2008 1:31pm CST
I decided to try needle felting, and made these three teddy bears. The middle one is the very first attempt, the one on the left is the second one I made and the one on the right is the latest result. They all are thread jointed so their arms,legs and heads move. They have bead eyes and their noses are felted and the mouth is out of thread. I have had sooo much fun doing needle felting and have more projects that I am planning to do. I am anxious to try to make dogs and have one that I am working on, a little Yorkie. Have any of you tried needle felting? How were your results?
2 responses


• United States
21 Oct 08
Here's hoping that the image will come through. Needle felting is the process of taking semi processed wool fibers and using a very sharp needle with barbs along the shank to "meld" the fibers together so that they stay together. It was the way the factories originally created wool felt. Now it is an art form used by a lot of people to make everything from clothing to purses to collectible animals. I am having so much fun creating the various animals and am looking forward to being able to do more of the animals. Currently I am busily making my stuffed bears and dog coats for a couple of craft shows next month and in December. I don't know if you'll be able to see the matting that was created by the needles, but it might be visable on the larger bear. Also, they are fully jointed, with string jointing which was an early form of jointing smaller stuffed toys. The largest bear measures about two inches and the smallest is about an inch high. I am currently trying to finish a mini dachshund for a breeder that just gave me another dachshund for my crew (I now own three).

• United States
21 Oct 08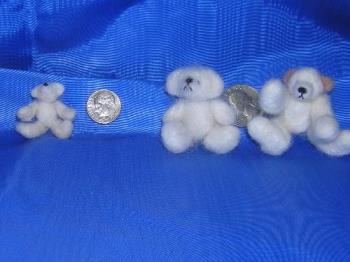 here is another try at posting the picture of the bears i needle felted.


• United States
24 Oct 08
Oh goodness, they're adorable! And so tiny. I can't imagine that would be easy to work on that small. You're very talented. I could never make something like that, much less felt it too.

• United States
24 Oct 08
Thank you so much for the compliment! I've seen your work and it is soooo beautiful, getting such a wonderful compliment from you is like winning a 50 million dollar lottery! Believe it or not needle felting is very easy. I have been able to needle felt in the car on the way to town. I also carry it with me to the doctor's offices. One of the bears can be done so quickly...as long as you remember to keep your fingers out of the way!! Those needles are super sharp!!!!!!!!!

I am working on a penguin and then will be doing dogs, as soon as I get done doing school work. When I get them finished I'll post them. Thank you again for your compliments, they mean a lot and make me feel soo good.

• United States
24 Oct 08
I could probably do the felting ok, but I could never make the item itself, that's for sure.