Do father sing to their kids?

New Zealand
November 6, 2006 11:36pm CST
Do father sing to their kids?
6 responses

• United States
7 Nov 06
I don't remember my dad ever singing lullabyes or anything like that when I was very small. I do remember when I got a little older (maybe 8 or 9) we would wait for my mom to leave on errands, put some 80s rock on the stereo, and crank it til the walls shook and the neighbors looked out their windows. We'd rock out in the living room... good times :-)

• India
7 Nov 06
Yes, they do. My father sang to me when I was a child though he had this rough, out-of-tune voice, but I simpluy loved it as if it was the best sound in the world! And my hsuband sings to our daughter too. Fortunately, he has a much better voice than my father and also much better than me. He sings more songs and more often to her than me because I am so out-of-tune :(. My daughter definitely loves to hear him and adds her 'gaaa-gaas' 'appaaaa' and 'mmmmaaaaaa' to the tune of the song.

• India
7 Nov 06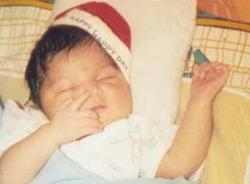 Yes my husband does. he sings a lullby he has made himself with silly love words to my 5 month old daughter and she loves that. she keeps listening to him and if he stops she starts making sounds to make him start singing again. Its lovely to watch.