dream dress?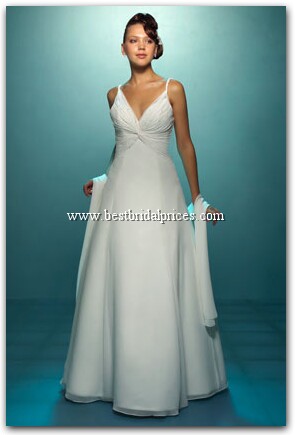 China
October 18, 2008 4:37am CST
so my sister will marry in this months we 've been looking at wedding dresses.this got me thinking about what kind of dress i would want and what kind of dresse you all would want . what kind of dress did you wear when you got married?if you had a do over were to get married in the nest year what dress would you pick? i just thought about this would be fun to look zround and see,my dream dress would be a combination od these two with the lace sleeves,and the lace over the silk of the second one but the shape and flow of the first what about you,,my friend,,
3 responses

•
18 Oct 08
The range of wedding dresses available now is wonderful,there are some real creations on the high street now,the department store bridal shops are crammed with the most lovely bridal wear.Last time I took a look in the bridal shop I was taken aback by the range of dresses,the intricate decoration and embroidery on them,the heavy beading that must have taken many hours to complete.The diversity of the styles,the sleek slim fitting sheath dress,to the full blown romantic meringue style.The colours are changing too,and it no longer seems that it is an essential to be married in white or cream,there are some crimson dresses,burgundy too,and I have recently seen a wedding dress with a maribou collar,which was very attractive.But these special occasion dresses come at a price,and I am sure that there are many who would prefer to look for a second hand dress,there are so many great ones for sale on ebay,and maybe for the price of having the dress cleaned.and yes I know that is an expensive jib too..but it would still be more economical than buying a brand new dress.

• China
19 Oct 08
Thank ,you my friend, the economic dress relly have attractiv power,and esp in such the online's ebay site..but i think the new dress really more attractive than rent or buy scend-hand dresses,and we have a only one time and the very important time in our life,,,, thanks for your response,best regards to you ,,happy mylot..

• India
18 Oct 08
i am from india..so i like to wear saree..chudithar..thse dresses are very famous in india...sometime i like to wear jeans..t shirt..and one morething is..i like to a white color marrige dress..i think it wont happed in coutry..have a nice time with mylot

• United States
25 Jan 09
I guess it depends on what you want to wear.I just wear a simple dress during my wedding.I know it was a memorable day to me but my husband and i just wnat to make it simple.The most important for u was that we were bind together with blessings and love.