"We are the ones we have been waiting for"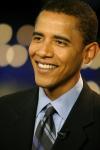 United States
October 19, 2008 10:47pm CST
Senator Obama is trying to take the power out of the hands of the few and put it back into the hands of those where it should be ..into the hands of the voters. He is against bigwigs being getting all the tax breaks while the little guys get nothing. He even stated in his rebate that the tax cuts wouldnt go to those who make over 250,000 a year.. which means he would not get a tax break. He state himself as an example of those who don't get a cut. Obama is for change and for hope for American He is for bringing home the thinly scattered troops and bringing home jobs from those that are being outsources to other countries. He didn't say he was going to side with the terrorists but rather sit down and talk with leaders of countries where terroriss sometimes resides. If you want to know the truth about what Obama stands for go here: http://www.barackobama.com/index.php
7 responses

• United States
20 Oct 08
Why are democrats incapable of realizing that even and fair tax cuts will always benefit the rich because they are the ones paying almost all the taxes? As Rodney just pointed out, the top 5% are paying 50% of the taxes. It's true that Obama's tax plane would benefit 81% of the people in this country. I say 81% because he's actually misled you by omitting the entirety of his tax plan. Any individual making over $200,000 will be taxed at a higher rate and HOUSEHOLDS making more than $250,000 will be taxed at a higher rate. He's just lying to people by saying only those who make more than $250,000 will be effected. Now onto the bigger problem. 40% of the people in this country are paying ZERO income taxes. Those people will still benefit from Obama's tax plan. How can people that are not paying income taxes benefit? WEALTH REDISTRIBUTION! If you're a socialist, and you believe that's right and proper, fine. But don't sit there and deny that it's socialism when anyone who knows anything about politics can see it for what it is. You're just lying to yourself at that point and waiting for the money that someone else earned.

• United States
22 Oct 08
There is more at hand in the elections then money..I am not a money grasper. REality is our country is spiraling down to a recession / quasi depression We need to do domething, change something to make life easier for all Americans.

• United States
20 Oct 08
I have to agree with you. I can't remember any person running for office that was so focused on the middle class. Most run promising trickle down economics which has never down anything but left us in debt and usually a huge recession.

• United States
20 Oct 08
THanks for you your support on this .. There are many to push down Mr. Obama but few to stand up for him.. I wonder if there are closet Obama supporters hiding in here?

• United States
20 Oct 08

There are a few Obama supporters here but way more bashers. My Liberal friends and I take a good beating for standing up for Obama but it's ok we don't mind. It is actually the intolerance of the conservatives here on mylot that pushed me more toward Obama after Hillary dropped out. I have actually changed my political party because of all the hate this election has stirred up. Don't get me wrong there are like three conservatives on mylot that are very fair.

• United States
22 Oct 08
Well, good for you for standing up as a conservative and heading towards Obama..I think that may be similar to what I believe too.. I can't stand the smugness of some people who march around as holier than thous and ask you to vote for this one because he is the best one for christians.. Christians are also citizens and the country has more issues then just religious ones..I am quite religious but hate religious fanatics that focus on everything but real hard issues.

• United States
20 Oct 08
Littlefranciscan, What Obama proposes will have the opposite effect on the middle class. When the people who provide the jobs, invest their money and take ALL of the risks stop spending that money and start cutting jobs many of the middle class will be without jobs and therefore will have not income to tax and therefore will recieve no tax cut! It is ludicrous to think that the top 5% of income earners who already pay a whopping 60%+ of the total income tax bill will not protect themselves in whatever way they can to offset what the "messiah" deems "fair". The tax system is unfair all right but to which end of the spectrum is the question. I hate paying taxes, I believe they are too high and we pay far too much for stupid, idiotic whims of congressmen and senators. But to say that people who make 250K and above deserve to pay much more in percentage that the people wh make 30 thousand is not fair, and no I don't make anywhere near 250K in fact my wife and I won't even be near half that this year, so I'm not adversly affected by this idiotic, misguided tax plan, yet!

• United States
22 Oct 08
I understand your feelings but I cannot agree with what you say.. After I am going to vote my conscience and my conscience is pointing me to the democratic corner this November.. I don't agree with everything Mr. Obama says but the majority I do.

• United States
3 Nov 08
The guys at the top will hire people because the capitalists system requires that people spend money, consumers control the system. If the middle class is strong and they are spending money, then the upper class will make a profit. They will in turn, hire people to expand business and the economy will be healthy. When you suppress the middle class, then the economy goes sour. Trickle down economics is what pyramid schemes are made of. Only the guys at the top make the money, everyone else works for the system and they barely survive or go under. Give Obama a chance. He can't do any worse than what has already been done to this country. Loyd is right, Exxon/Mobil has become a wealthy giant off of the backs of the American worker. Under Clinton someone earning minimum wage could buy 10 gallons of gasoline for two hours of work. Today, they have to work nearly an entire day to put that same 10 gallons in their tank. How much does that leave them to spend on other things? Companies have been laying off like crazy. That will only hurt the economy, but when people don't spend money, then the economy can't grow.

• United States
20 Oct 08
Thank you for supporting Barack Obama. You will not be in a majority on mylot, however! If you notice my star rating, you will see what I mean. lol It doesn't bother me one bit, though; I will continue to say what I believe. I think it is great that Obama is focusing on the middle class for a change. We sure haven't been focusing on anything but the rich for the last eight years. They have gotten richer and the rest of us haven't seen any of it "trickling down." I'll be voting for Obama, and so will my daughter and my Mom. I hope the majority of citizens will be, too!

• United States
22 Oct 08
I am pretty much in the minority all over ..even beyond mylot. NO one I know like Mr. Obama..but I do..He has a clear mind view of things..I think that there are many reasons people don't like him..Maybe it's racial or maybe its age? I don't know. I do know we need a change

• United States
20 Oct 08
Thanks for the link. I think alot of people are scared of the changes they want to make.

• United States
21 Oct 08
What changes do you think they are afraid of. We have been in the same stagnant existence for some time.


• United States
20 Oct 08
Amen to that.. I know that some folks don't like him..But perhaps they are picking out in him wha they don't like in themselves.

• Philippines
1 Nov 08
Barack Obama's - Yes We Can Video is beautiful, extremely beautiful. I hope someone could say these kinds of things to us. I was struck by the message of hope. No matter what the politics is, the line stands, " We are not divided as our politics suggests. Yes we can."

• United States
3 Nov 08
I love that video; and it's true to fact. We need to get back into the race by supporting our candidate and standing united for "change:"