What candy are you shelling out for Hallowe'en this year?

Canada
October 20, 2008 3:52pm CST
If you're shelling out candy for Hallowe'en this year, have you decided what to give the trick or treaters that come to your home? Do you get the same things every year? Do you get treats you will eat if there are leftovers? Or do you purposely buy things you won't eat so that you won't be tempted by leftovers? This year I'm giving out two treats to each trick or treater. One mini chocolate treat (either smarties, aero, kitkat or coffee crisp) and one mini gummy treat (either sour patch kids, fuzzy peach, or swedish berries). I buy treats that I know my kids will like, just in case there aren't too many kids coming into our townhouse complex, and we have lots leftover. You never know from year to year how many will arrive, and of course, weather is always a major factor.
11 responses

•
20 Oct 08
Hi CanadaGal, I usually will just buy a large mixed pack of sweets for anyone hat does come to the door and will get a pumpkin for my son to decorate but I don't really celebrate it. It is becoming more popular in the UK these day though and a neighbour usually has a party and if I am not working will pop into her. Huggles. Ellie :D

• Canada
21 Oct 08
Pumpkin carving is part of the fun for sure! I bought two yesterday, and will look online for some funky patterns. Then the boys and I will vote on the styles.

• United States
20 Oct 08
We tend to get something different each year. Haven't decided what it will be this year at home. At the store we already have a big bucket of mixed chewy candy on the counter for customers. At home we always buy stuff we like as we never get any actual trick or treaters other than family since we live down a back road that has very few kids on it and is very poorly lit! We always prepare as though we are going to get hoards of monsters and gobblins, but so far we never have!

• Canada
21 Oct 08
I had prepared for tons of kids in an apartment in Toronto where I once lived. Not a single one came knocking on the door that year. What a disappointment!


• United States
20 Oct 08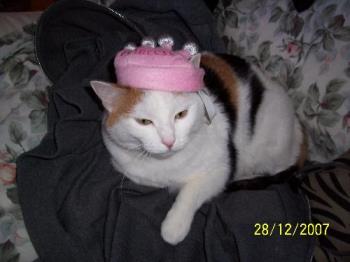 I am buying my candy at the dollar store this year. We have loads of decorations from years past.

I wrote an article on how to make a clever Halloween costume recently. If you want that PM me.

Anyway, I think it will be fun no matter. I have always loved Halloween.


• Canada
21 Oct 08
I am afraid to buy some candy from the dollar store, because I don't recognize the brands. When I do know them, I'll buy them, but not for Hallowe'en. Your cat doesn't seem overly impressed with the costume. lol. I have a picture somewhere of my childhood cat Timmy, wearing some cat size glasses. I should find them and put them on my new kitten Katie sometime. lol.

• United States
22 Oct 08
Well that
is
Miss Angel. she isn't into anything much except her own food.

That, she is very much into. Funny kitty. Yes, I know the pictures thing is a new hobby of mine. I try to set the things on the cats when they are relaxed. The only thing that happens is that you catch some really funny cat expressions on their face. as if to say: "these humans are so annoying".

Anyway, if you find them share them with us. Take care.


• United States
21 Oct 08
I would love to pass out candy for Halloween but where we are located no one comes to our door so there is no point buying candy since I would just eat it all after no one came. I think your discussion is pretty interesting as I never really gave much thought about what candy I would pass out. I wouldn't want to give them something that they could choke on easily and I wouldnt want to give them something that would be like such pure sugar I would probably try to find something inexpensive that was more healthy candy. I would probably have to buy a ton of candy because if I was passing out candy I would probably wind up eating a piece for everytime I had to pass out candy especially if it was like a reeces cup or twix! I cant wait for Halloween my daughter loves it and I love asking her what kind of candy I can eat out of her basket hehe.

• Canada
21 Oct 08
You would love to have my son Alex to trick or treat with then... he doesn't eat candy or chips or chocolate or suckers, etc. He gives away his entire stash every year.

• Canada
20 Oct 08
I go to a friend's place every year. We are probably going to shell out mini o-henry bars, reeces peanut butter cup minis, and little mini boxes of chocolate covered raisons and peanuts.

• Canada
21 Oct 08
Mmmm! We get less and less of those kinds of chocolates when out trick or treating because so many kids seem to be allergic to peanuts nowadays.


• Canada
22 Oct 08
The novelty of the candy wears off from my kids after a few days. The excitement for us is more about dressing up in costume and going out of the house after dark.


• Canada
21 Oct 08
I'll also go through my sons' candy when we come back, and shell out the stuff that they don't like.

The older kids that come around later end up scoring bigtime, because I'll unload most of it on them.


• Canada
21 Oct 08
Do you think you'd buy favourite treats of yours to hand out if it was celebrated in your area?

• United States
21 Oct 08
I usually try to have mini chocolate bars ready to give out. But we usually don't get a chance to give too many out because we soon leave to take our son out trick-or-treating then when we get home we always have a full bag of treats my son collected then a huge bowl of chocolate mini candy bars. It's actually too much candy. But I think this year were going to skip buying candy because each year we don't hardly get a chance to get rid of it because were never home long enough to pass it all out and I'm usually sick of candy by Thanksgiving because we still have ton's of Halloween candy left..LOL

• Canada
21 Oct 08
I feel guilty if I don't shell out when I know my kids are out trick or treating. And being a single parent, I obviously can't do both at the same time. I end up giving my treats to a neighbour to shell out for me, and put a note on my door to tell people to go to unit # whatever.

• United States
21 Oct 08
We will be passing out plastic spider rings and halloween tatoos this year. I didn't get candy. I found these really cute halloween rub on tatoos and I always give out the plastic spider rings. Happy Halloween!

• Canada
21 Oct 08
That's a great idea. I've seen some people hand out juice boxes and pop before too. One year, the boys each got a fire safety colouring book from a local retired fireman.