Ever hear of a tuxedo cat? Share your picture.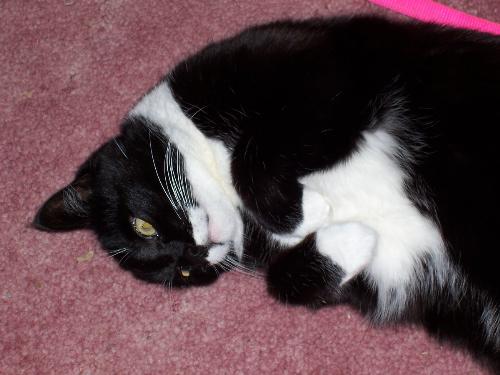 United States
October 20, 2008 4:33pm CST
I was just uploading several pictures on here. I noticed severla really adorable tuxedo cats. If you have a tuxedo cat could you share a picture with us? Have you ever heard of a tuxedo cat before? I first heard of it when I played the Sims 2 Pets. (I smell a cross-discussion).

I saw the cat and thought: wow, that looks like my cat Sylvestar. share yours. Have you heard of this cat breed?
3 responses


• Canada
31 Oct 08
When she was born she was (mostly) black and blind for a long time. I also thought she was a boy. I named her after a black, blind and MALE cartoon character. I found out she was a girl some time after the name had already stuck. That's OK though, it's still a cute girl cat name! And thanks for BR!

• United States
20 Oct 08
hi MH4444...i've not heard of a tuxedo cat before. but we had temporarily a black and white cat that i loved. couldn't keep him cause it wasn't my call. i think they are beautiful. whether they are a tuxedo cat or not.

• Canada
20 Oct 08
I love the term 'tuxedo cat' and have always thought that Tux would be a cute name for a black & white kitty! Our tuxedo cat is named Fontaine and she is adorable. Her markings are so symmetrical - she almost looks fake! Here's a picture.