Filthiest House Ever...Do You Think There Is An Excuse To Be This Messy?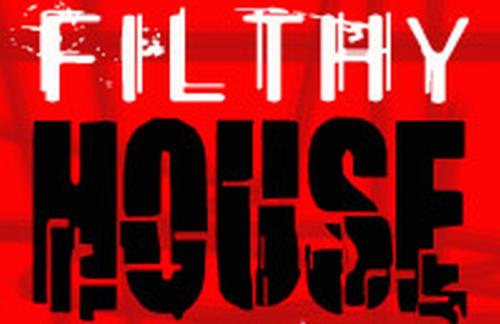 Turkey
October 21, 2008 1:46am CST
I came across this while surfing the internet and I just got completely disgusted by it. Here's the link: http://www.i-am-bored.com/bored_link.cfm?link_id=34632 I personally think that there is no excuse for this, whatsoever. It's pure and utter laziness. Look, I have been known to leave a dish or two or even three in the sink over night and perhaps not sweep my floor for a day or two but this house looks like it's never been cleaned, EVER...How anyone could live in such filth is beyond me. Did you see the bathroom? Who would ever want to use that thing? Ugh...Can you imagine the health hazard that that house contains? It's just beyond gross!!! What do you think about this house? Have you seen worse? Do you think there's any excuse in the world (other than death) that could excuse the filth seen in the pictures in the link above?
8 responses

• United States
21 Oct 08
Im torn on thinking that maybe it is a flop house BUT the bedding is relatively clean compared to the surrounding area, if you noticed the keyboards keys (the ones that we mostly use) were clean compared to the other parts of that poor keyboard. It kinda looks like there were lights on in some of the pictures and as my daughter pointed out all the cigerette butts look the same brand. I guess I just dont want to believe that ANYONE could live like that, it disgusts me and yet I kept looking at the pictures.

I did see a program on something like this one time about people that live like this and actually have very nice jobs, where they could even afford to pay for a housekeeper. So I dont know if lazy or something actually has anything to do with a place that gets to this point. One person had a clean-up crew come in and was crying and wanting to keep alot of the stuff, hince I dont think it was just being lazy. Thinking about this Im of the opinion that this goes way past being lazy there has to be something mentally wrong with anyone that lives like this. I actually feel sorry for whoever this is as it has to be more then just lazy.

• Turkey
22 Oct 08
I really don't think these pictures are rigged. I don't think anyone would go to that much trouble to make a house look that dirty, just for a few minutes of online attention. Not when in this day and age there are so many other ways to do this. No, sadly, you can tell that this place was lived in. Especially by looking at the bathroom. Something like that happens over time, with a constant overflow of a toilet that no one ever cleans up. Soooo nasty! I agree, this isn't just laziness (though that is part of it in my opinion). This person obviously had some major mental issues going on. It is sad and I do feel bad for them to some degree...

• United States
21 Oct 08
I was doing ok until I saw the bathroom! I just ate and now I feel like puking! LOL. I really hope there wasn't any kids living there. I noticed that they ate out a lot just think if they had stopped eating out they probably could have afforded to hire someone to come in and clean. Another thing that got me was that poor computer! lol the keyboard was GROSS. lol

• Turkey
22 Oct 08
I know, I completely agree about them eating out so much. Plus, the house would have been a little cleaner perhaps without all those pizza boxes thrown everyone. I stress A LITTLE cleaner because I doubt it would have made too much of a differance. In fact, they probably would have had whatever foos they cooked left out most likely. It's just pure laziness if you ask me...UGH...


• Turkey
22 Oct 08
I don't blame you, I felt the same way after I saw that house. Especially the bathroom. It looks like they just let the toilet overflow and just kept using it anyway, without cleaning up the mess. It's just so nasty...

• Turkey
30 Oct 08
The only reason why I would say that it isn't a hoax is because who would go to the trouble of making a house THAT filthy just to take some pictures and put it on the internet. I mean, that is YEARS worth of garbage. I don't see anyone going to that much trouble for just a few minutes of internet fame...

•
29 Oct 08
Yeah it is disgusting, especially that bathroom, can you imagine being the poor sap that has to go in their and clean that up? YUCK!!! You know I used to have a friend, lovely girl she was. She would do anything for anyone, she would give me her last pound if she thought I needed it, but my word was she dirty. She was married with four kids and her and her hubby lived in filth, I mean there would be clothes and rubbish everywhere in that house and her hubby would finish work, come home and just sit down watching tv. His excuse was that it was a womans job to keep clean. I used to hate going there for a brew, I would sit on a chair and in minutes would have fleas on me! Like I say though she had a heart of gold and was a good mate to me, so when she was stuck for a babysitter while she and her hubby were out at work I offered. I had to cook tea for her kids, well I balked at that, the sides were filty, covered in dirt and oil from the chip pan, and all the plates were piled up and dirty in the sink, dirty washing all over the floor etc. So, I brought all my cleaning stuff with me and before any food was cooked I scrubbed that kitchen from top to bottom. Four hours it took me but in the end you could eat your dinner off the side. I tried hard to help her to learn to clean but it was impossible and in the end someone reported her and the social came in. I do not know why some people are like that but I do not think always that it is down to laziness or being dirty, in my friends case she had never been shown how to keep a house, she did not have a clue and in the end the social workers helped her to gain the skills that she needed.

• Turkey
30 Oct 08
Wow, that really is a shame. I never thought of it as having to be something to be learned but I guess for someone who was never taught to keep things clean, I guess that would have to learn some organizational skills. I'm a very ogranized person and so, I couldn't imagine not being one. I'm glad that your friend was able to get help and learn how to keep a clean house. Do you know if things have changed in her home? I hope so!!! Thanks so much for your comment, I really appreciate it!


•
30 Oct 08
To be honest with you I do not know, unfortunately we lost touch some years ago.

• United States
22 Oct 08
Oh, good Lord, I wa not prepared for that. That is just sick. Whomever lives there should be ashamed of themselves. The only way I can think of to explain it is they must be insane. That house is just beyond nasty. I wouldn't step foot in there. Who lets their loved ones live like this?? I think I'd have to schedule an intervention for them or something. I don't know how they do it. I don't feel comfy if my shower curtain is not put back in place, or if my bed isn't made. How does someone let their home get like this??

• Turkey
22 Oct 08
I completely agree! I can't relax if there are things left out and I would certainly not be able to sleep peacefully in a room that looked like thier room did, let a lone a house. I agree, these people had to have some major mental issues, without a doubt! Thanks for your comment!

• United States
29 Oct 08
NO WORDS CAN DESCRIBE!! I can't beleive someone actually lives in that! Not only should they condemn and tear down the house, they should completely dig up the ground it stands on and dump a truck of lysol in the spot where it was!! OMG!! There is no excuse for that. Look, my house is not spotless. I have two little ones and spend most of my time trying to play catch up when it comes to house work. But I would never in a million years let my house look like that...not even a portion of it. I mean you would have to not clean house for years in order to get it to look like that. I saw a cat litter box...I am wondering if that is for some poor kitty lost in that mess or if the ppl who live there use it because their toliet is so disgusting! I would want to work 24/7 if I lived there because who would want to come home to that??!! Those british ladies on "How clean is your house" need to pay these ppl a visit...but I think this home (and I use that term losely) maybe too much even for them!

• Turkey
30 Oct 08
LOL...I agree, I don't even think those ladies would want to touch this place. They would probably agree with you to tear it down and I can't say that I blame them...

• Garden Grove, California
22 Oct 08
MrsFairwells that is the worst I have ever seen, just sickening. and I cannot imagine living in such filth. why is it like this, what happen to the people who lived here that they were so filthy. this is just unbelievable.the bathroom, yuck, there is no excuse dont they have garbage containers? they cannot be too poor with takeout containers all over everything. A lot of that is just a matter of p;icking up used containers and putting them in the garbage. I may not be the worlds best house keeper but myu appartment never looked any where near that bad.How did they manage to sleep; at night with all that trash on their beds? Did'nt they ever clean any of that crap up?

• Turkey
22 Oct 08
I completely agree with you. Personally, I wouldn't have been able to sleep in a place like that. That place would give me major amounts of anxiety. All that clutter is just awful. There's no excuse for it and you're right, most of that is just a matter of throwing away and picking up after yourself. For instance, the pizza boxes and the cigerette butts. If they would have just thrown out the boxes right after they were done with it, they wouldn't have a million around the house. As for the cigerrette butts, what do they not believe in ashtrays? On the picture where it shows the couch, it looks like someone just put out there cigerrette on the couch's arm rest. That's just uncalled for, not to mention dangerous. Whoever these people were, they had money. Looks at all the pizza boxes around the place. Someone who is low on funds would not eat out that much. These people apparently not only had major mental issues but they also were beyond lazy and it's just so very sad...